Rayna Michelle Montgomery, of Stuart, took little thought for her own safety when she risked her life to help save two sisters from drowning in 2021, but on September 6, she was recognized for her heroism with a Carnegie Medal.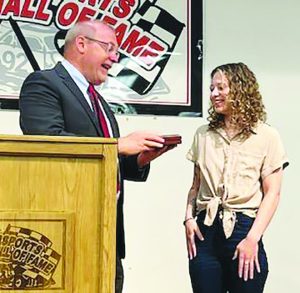 Ninth District U.S. Rep. Morgan Griffith, R-Salem, presented the medal from the Carnegie Hero Fund, which was established by Andrew Carnegie in 1904 to recognize acts of selfless acts of heroism, bravery, and courage performed in the United States or Canada.
"The Carnegie Hero Fund Commission awards the medal to those who risk death or serious physical injury to an extraordinary degree while saving or attempting to save the lives of others," Griffith said.
Montgomery's actions on April 18, 2021, at Kure Beach, N.C., prompted the award, Griffith said of the day that two sisters, aged 11 and 14, were pulled 110 feet from shore by strong rip currents.
"Multiple people responded including Jessica Lea Embry, a 40-year-old Wilmington, North Carolina teacher, and our honoree, Rayna Michelle Montgomery, a 17-year-old from Stuart, Virginia." 
Griffith said Embry reached at least one of the girls in water nine feet deep but was repeatedly submerged by rough surf and eventually lost consciousness.
"Rayna swam to the panicking 11-year-old who repeatedly submerged her. Rayna towed her to a point about 15 feet from the shore where a man took the girl and brought that child to safety," he said.
Montgomery then exited the ocean and vomited the water she had swallowed, Griffith said. The 14-year-old girl also reached the beach, while firefighters rescued another man and Embry.
"Embry could not be revived. She had drowned. Rayna went to the hospital the following day, and her treatment included the use of an inhaler. Thank goodness she recovered," Griffith said.
While Montgomery may not have fully appreciated the risk she had taken, Griffith said it was clearly dangerous because not everyone survived.
He thanked Montgomery for her selflessness and her heroic actions.
"I will tell you there is nothing I honor higher than courage. The courage to do something like this is amazing. While you may not have thought about it at the time, there were lots of other people on the beach who didn't do what you did, who didn't have that instinct to go into the water," he said.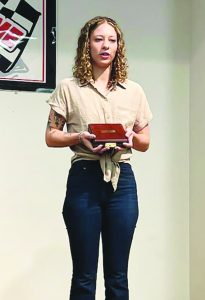 Montgomery said she was visiting Kure Beach for a day trip.
"I'm just glad I was there for the 24 hours I was there, and I was able to do that," she said.
Montgomery had also only been in the ocean once before when she was young and had no idea what she was getting herself into.
"When I did, I realized it was scary, and it was a fight. She fought and I fought like the whole 100 feet, I guess. It felt shorter than they said it was. They say it was 100 feet, but just know it just felt very shorter and faster and chaotic," she said.
Montgomery said she was scared when she went into the ocean because the girl she saved kept pushing her under to stay above the water.
"She actually was taking my top off, so I was topless in the water at one point," she added.
Montgomery said she went into the ocean on pure instinct.
"The thing that set me off was I heard the word 'kids.' They were like, 'there are kids drowning,' and as soon as I heard kids, it was just a heart drop, and I have to help them because they're kids," she said. "You hear kids, and you have to help them."
Following the rescue, Montgomery used an inhaler for three days as needed. She believes it was needed because of the soreness in her lungs from breathing so heavily.
Montgomery said she got her swimming experience from the pool in the apartment complex she grew up in.
"I was in the pool every day, that's where I got my skills," she said.
Montgomery currently works the third shift at the Stuart Walmart. She was enrolled in the online school offered at Patrick County High School.
Noting that he's been in office for 13 years and represents a district that is larger than nine states by land mass, Griffith said this marked the first time he has ever been asked to present a Carnegie Medal.
While the ceremony was to honor Montgomery, she requested those in attendance to take a moment to honor Embry.
"I know that her brothers are receiving it for her, I can't be there, but I do want to make sure that she's honored in any kind of way," she said.