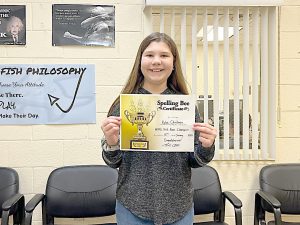 Kylee Childress emerged as the winner of the Hardin Reynolds Memorial School's (HRMS's) school wide spelling bee on January 18. Students from grades 4-7 participated to determine the top spelling champion.
Kylee is a sixth grader who enjoys going to church, writing, and playing the piano. She is a member of the Jr. Beta and Bible Clubs at HRMS. Kylee is the daughter of Christy and Jacob Keffer. She enjoys hunting with her dad, spending time with little sister Paisley, and getting coffee with her mom.  
"I am a Christian who loves Jesus.  I give God all of the glory for winning the school spelling bee," Kylee said.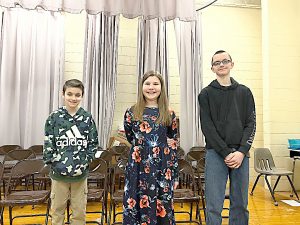 Seventh grader Rylan Montgomery is the runner-up winner and fifth grader Ronald Davis placed third. Congratulations to these spellers!
The school also recognized all of the top classroom spellers who participated, including Mason Leath, Halo Martin, Bentley Rowe, Wyatt Barlowe, Madison Watts, Braiden Brooks, Mason Whitlow, Jada Stump, Aiden Hagwood, Bentlee Davis, Jensen Harbour, Avalynn Huffman, Jake Holt, Leila Stephany, Cooper Wikstrom, Jennifer Stowe, Noah Jenkins, Asher Vaughn, Ariana Hagwood, Paul Matthews, Gabby Reynolds, Cali Biggs, Lily Pritt, Madison Purdy, Jayson Turney, and Sky Evans.