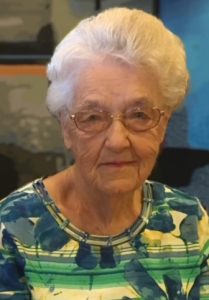 Mrs. Janie Elizabeth Hubbard Brammer, age 90, formerly of Collinsville, passed away November 17, 2023, in Myrtle Beach, South Carolina. She was born in Patrick County on July 29, 1933, to the late Walter Ethan Hubbard and Mattie Elizabeth Agee Hubbard. In addition to her parents, Mrs. Brammer was preceded in death by her husband, Troy Shirley Brammer; a son, Tommie Wayne Brammer; four brothers, Ernest, Clayton, Wayne and Harley Hubbard; and a sister, India Williams. She enjoyed crafting, going to flea markets, chatting on the phone, and working in her flowers.
Mrs. Brammer is survived by her daughter-in-law, Margie Brammer of Myrtle Beach, South Carolina; three grandchildren, Brooke Lipat (Jaime), Zacharie Brammer (Mayah) and Maggie Beth Brammer; two great-grandchildren, Luca and Lily Lipat; a sister, Essie Hughes of Patrick Springs; and a brother, Melvin "Pete" Hubbard (Iola) of Meadows of Dan.
Graveside services will be held Wednesday, November 22, 2023, at 11:00 a.m. in the Woolwine Cemetery with Pastor Dewayne Troutt officiating. Moody Funeral Home in Stuart is handling the arrangements, and online condolences may be sent by visiting www.moodyfuneralservices.com.