The Patrick & Henry Community College Bass Fishing Team recently traveled to Alabama and competed in the Pickwick Slam April 22 and 23 for the first event of 2023 in the Bass Pro Shops Collegiate Bass Fishing series. Pictured left to right, team of David Bryant and Zach Heath, and Ethan Hubbard and Shelby Rigney, fished hard in the two-day event. The four walked across the national stage for weigh-ins while representing Patrick and Henry counties.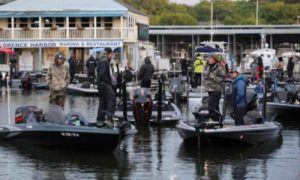 The no-entry-fee, ACA major double points Pickwick Slam presented by Evolution Fishing saw over 200 of college fishing's top teams throughout the country compete for two days on Pickwick and Wilson Lakes in Florence, Alabama.
Charlie Wright & Logan Plueger from University of Montevallo took home first place honors with a two-day total weight of 43.83 pounds. At the conclusion of weigh-in, over $20,000 in prizes and contingencies were awarded to this elite field of more than 400 anglers. The Association of Collegiate Anglers would like to extend a special thanks to all of its series partners for their support of these college anglers.