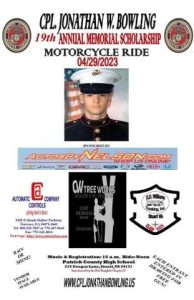 Motorcyclists from across the country will gather in Patrick County on Saturday, April 29 for the 19th annual Cpl. Jonathan W. Bowling Memorial Bike Ride. The annual memorial motorcycle ride is both a way for fellow veterans and servicemen to remember fallen Marine Jonathan Williams Bowling and a chance for these men and women to continue his legacy of giving back to the community.  
The event begins at 10 a.m. at Patrick County High School (215 Cougar Lane) in Stuart, Virginia and features live music, food, and door prizes. The ride begins at noon. Registration is $15 per vehicle, and each entrant has a chance to win prizes. Trophies are given to the bike traveling the farthest to participate in the ride. All proceeds from the ride will go toward the Corporal Jonathan W. Bowling Memorial Scholarship, which was established to honor his legacy and provide a Patrick County student with funding to attend Patrick & Henry Community College (P&HCC).  
Bowling was a police officer, firefighter, elder at his church, and a corporal in the United States Marines. During deployment in Iraq in 2005, he made the ultimate sacrifice.  Because Bowling was also an avid biker, the Chapter 11 Red Knights Motorcycle Club instituted an annual bike ride to honor his memory.
"The ongoing passion of the motorcyclists who participate in the event to honor Corporal Jonathan Bowling is a testament to the life he lived," said Tiffani Underwood, Director of P&HCC's Foundation. "Through the Bowling Memorial Scholarship, the legacy that is so intertwined with Jonathan's life can be carried forward by Patrick County students who also have the desire to dedicate their lives to serving others. P&HCC is honored to partner with the Bowling family to preserve Corporal Bowling's memory in this way."
Each year, the Corporal Jonathan W. Bowling Memorial fund provides money for two Patrick County students to attend P&HCC. Students with a desire to enter into a career of public service are given priority. To learn more about the ride, the scholarship, or Bowling's life, visit www.cpljonathanbowling.us.