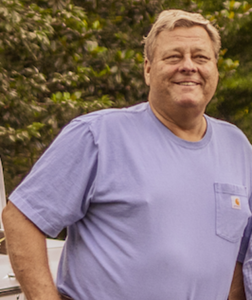 DKMS, an international nonprofit organization, is hosting a blood stem cell registration drive in hopes of finding a match for local man recently diagnosed with leukemia.
Brent Hull, 61, of Mount Airy man was recently diagnosed with acute myeloid leukemia and is in desperate need of a blood stem cell donor. Part owner and operator of Hull Brother's Lumber Company, Hull and his family are partnering with DKMS, the world's largest blood stem cell donor center, to host a blood stem cell registration drive to help identify a lifesaving potential match.
The event will be held from 9 a.m. to 3 p.m. on Saturday, April 15 at Calvary Baptist Church, 314 S Franklin Road, Mount Airy, N.C.
A blood stem cell transplant would allow Hull to get back to working at the lumberyard and doing the things he loves most, such as gardening, fixing cars and most importantly, spending time with his wife, children, and grandchildren. As he looks forward to getting back to his normal routine, Hull relies on his faith to give him hope for the future.
According to DKMS, 70% of people suffering from blood-related illnesses must rely on donors outside of their families to save their life. To address this, anyone in good health between ages 18-55 is encouraged to attend the registration drive. Potential registrants will review medical eligibility, fill out a registration form, swab the insides of their cheeks, and then drop off their completed packet before leaving the drive.
To join the fight against blood cancer or for more information, please go to dkms.org.
To register as a blood stem cell donor, please visit: www.dkms.org/bonemarrowforbrent.