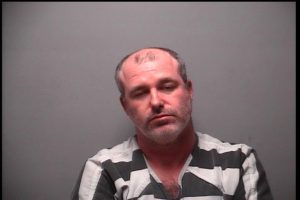 Andrew "Drew" Russell Tabor, 41, was charged with first degree murder in connection with the Wednesday stabbing death of his mother, Susan Ackermann Tabor. She was 67.
Patrick County Sheriff Dan Smith and Commonwealth's Attorney Dayna Kendrick Bobbitt announced the charge in a release late Wednesday.
Smith alleged that Drew Tabor showed up on the property of Stuart Elementary School at approximately 3 p.m. on Wednesday afternoon. School staff immediately notified the School Resource Officer (SRO) assigned to work at the school.
Sheriff's Deputy Dan Gray confronted Drew Tabor outside of the school, Smith said. Other safety measures were quickly taken by school staff to protect the children, who were still at the school.
The school, according to Smith, is approximately 600 feet south of the home at 306 Staples Ave., Stuart, where both Susan and Drew Tabor lived.
Smith said Gray reported that Drew Tabor was not armed when he came onto the school property. Information obtained by Gray during the initial encounter with Drew Tabor led other responding deputies to the discovery of Susan Tabor's body at the home.
Patrick County Sheriff's investigators are being assisted by crime scene personnel with the Virginia State Police.
The investigation is continuing, and Susan Tabor's body will be transported to the Medical Examiner's office in Roanoke for autopsy.
Anyone with information about the incident is asked to contact Patrick County Sheriff's Lt. Steve Austin or Smith at (276) 694-3161.