As some banks close brick and mortar locations in lieu of electronic service, Skyline National Bank celebrated the opening of its Meadows of Dan branch with a ribbon cutting.
The new bank is located in the former Truist Bank building. 
At the celebration on Friday, August 18, Blake Edwards, president and CEO of Skyline, recalled that he was invited to come to Meadows of Dan to meet a few people in the community to discuss potentially opening a branch in the community in December.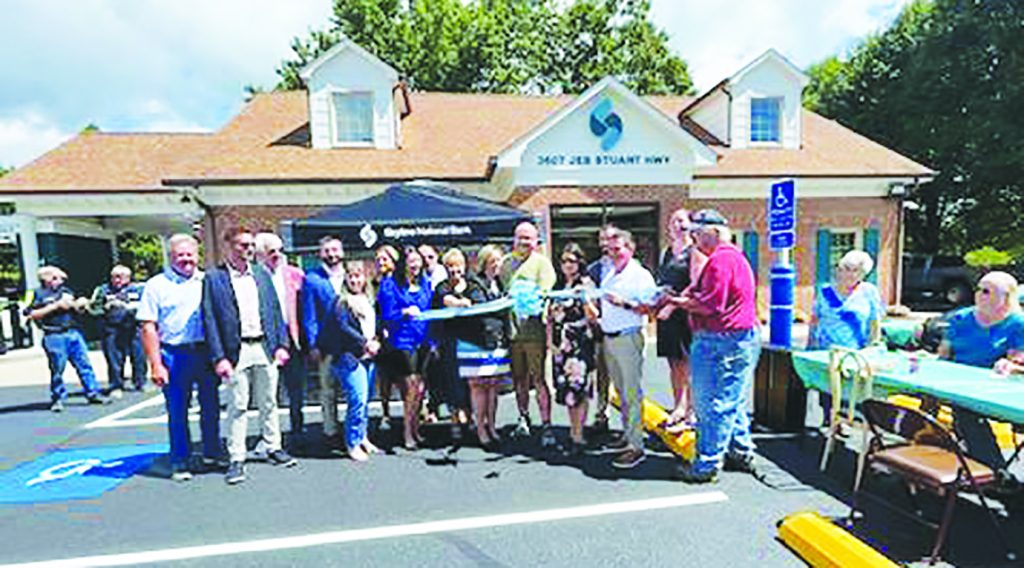 "I'm literally expecting to come over and meet maybe five to 10 civic, business leaders in the community. I'm thinking, 'how do I gracefully tell them no? Usually, communities of this size, the demographics don't work, so we're probably not going to be able to help.'
"I came with that thought in mind," Edwards said.
However, when he arrived, he had a difficult time finding a place to park, because more than 100 people attended the community meeting.
"It was that strong community support, that's why we're here today. Because I came in that day thinking 'how do we gracefully tell these people that this can't work,' and I left thinking, 'okay, can we really find a way to say yes,'" he said.
Edwards said while it was that strong community support that got Skyline here, it will also take that strong community support to keep it here.
"I told you on like the second or third time that we met that we would not have closed a branch the size of a branch that BB&T (later Truist) had here. It was roughly $30 million in deposits," he said.
If Skyline is there two years from now and has a third of that in deposits, then it'll be in the same position and have to make the same tough decision, Edwards said.
"I certainly don't believe that's going to be the case. I think the support from this community is tremendous and we're very excited to be here and looking forward to being a part of this community for many years to come," he said.
Branch Manager Laurie Wade said she feels like she's coming back home. She added that Meadows of Dan is her home. Wade served as the Truist branch manager until that bank closed in March.
"Leaving Truist was a hard decision after 15 years, but I think it's one of the best decisions I've ever made was coming to Skyline and coming back to Meadows of Dan and my community here," she said.
Wade said she enjoyed seeing clients again, visiting them, and opening accounts for them.
"We just look forward to the ones that haven't made it out yet, and coming out to visit with you," she said.