Brightspeed seems to be making good on its commitment to customers, and according to Scott Strader, that is as it should be.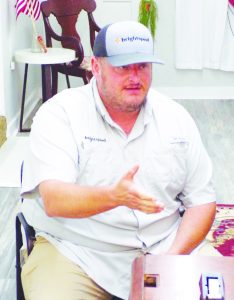 As the Supervisor of Region Operations (SRO) for Patrick and Henry counties and Martinsville, Strader said the company's main concern is its customers. 
"Our customers are important, and I want to be hands-on with everything that we do. Patrick County, Henry County, wherever I'm at, I want to make sure they know that I'm there and I can help them if they need it," he said.
Lisa Allen, who detailed her concerns at the August 14 Patrick County Board of Supervisors meeting, said Strader scheduled a time for a work crew to visit her home to install service. 
"They came out and installed" the line. "I took that day off, and we worked together, and they did the whole deal. They installed the landline and the internet, and it worked on that day," she said.
Allen said her father, Tom Bishop's, issue was taken care of before he even spoke at the supervisor meeting.
"I'm pretty impressed," Allen said, and added that she feels a lot more confident with Brightspeed than previously and is pleased with the service she received.
"Except for the fact that we do have an exposed line already, and it's because when they bury it, they don't bury it deep enough. So, when the machine hits a rock, it goes up and so some portions of the line are only a half inch deep, and some portions of the line are lower," she said.
Johnny Motley, of Elastic Plant Road in the Dry Pond area, said the day after he contacted Strader a work crew responded and fixed all of his issues except those he is having with his caller ID.
"They came out and my neighbor said they were out there most of the day with three or four trucks. They asked if they could park in her driveway," Motley said. "They got the phone fixed, but my caller ID still isn't working. It hasn't worked since early August." 
Motley said the active response and the work to fix his issues make him a little more confident in the company.
At an interview following the supervisors' meeting, Strader said he had a list of about 25 names to contact about service issues.
"We've knocked out over half so far," he said.
Strader also took the names and contact information of residents who attended the supervisors' meeting to address their issues.
He added that the company realized the extent of the issues as soon as it took over from CenturyLink and Lumen Technologies in October. 
"It's just been neglected. Brightspeed wants to put the money into infrastructure and get things done. It can't happen overnight, but we know there's a problem," he said.
Strader said some of the older switches need to be replaced to allow customers to have faster bandwidth.
"That's what we're looking at. We can't overnight, obviously, but we're trying to get those switches taken care of, get them upgraded, and get some replaced," he said. "We are working, and we are definitely being retroactive in what we're doing to bring new switches and developments in fiber." 
To help address the issues, Strader said the company hired about six new employees who are currently in training. 
The former owner "was laying off and basically didn't have the help," but Brightspeed has "hired and spent the money to get new employees," he said.
Those with Brightspeed issues can email Strader at scott.strader@brightspeed.com.