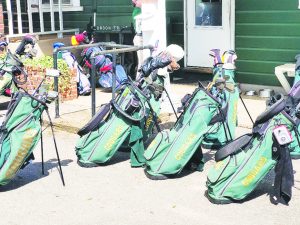 With their move into the Three Rivers District, Patrick County High School's (PCHS's) Golf team will face some new challenges this season, with new teams to face and new courses to play.
Most members of the Cougar team will see many of the courses for the first time on match day. 
"That makes it challenging, trying to figure out distances and yardages," said Head Coach Philip Steagall. Among their Three Rivers opponents will be two-time defending state champs, Floyd County. Steagall also feels Radford and James River will field strong teams.
PCHS seniors Kylee Joyce and Lauren Worley, who have played on the team since 8th grade, feel playing new courses isn't all bad.
"I think it's good because you don't know about the bad," said Joyce. On August 14, the Cougars played at the Pete Dye River Course in Radford. "There was one hole with water on it, and it didn't get into my head because I didn't know it was there."
Lauren Worley, who shot an 85 at The River Course, called playing on a course for the first time, "a learning experience."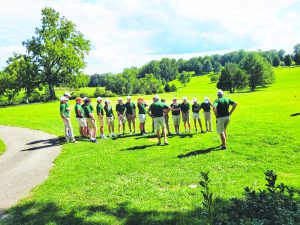 Parker Roop finished with a score of 88, Joyce shot an 89, and Chance Corns shot a 90. 
Steagall said, "We played well on a tough course today. We are getting better in our short game. We just need to continue to get better in the weeks ahead."
Both Worley and Joyce agreed that many of the courses also offer amazing scenery and views, which only adds to the enjoyment of playing. For other team members, it's all new. 
Sophomore, Kendra Worley, said, "I'm excited, but I'm also a little nervous because it's my first year on varsity. I'm not really sure what to expect, but I'm excited."
As a team, the Cougars played well at The River Course, cutting twenty shots off their overall score from the previous match. 
"We just have to get stronger in our short game around the green and save some strokes," said Steagall.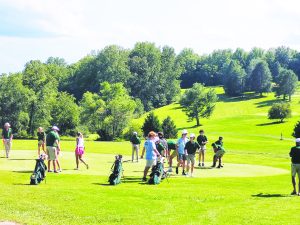 While there is no district tournament in the Three Rivers, the Cougars will host a sub-regional tournament on September 28 at the Olde Mill Golf Resort in Laurel Fork. Other teams competing will be Floyd, Chatham, Gretna, Dan River and Martinsville, with the top three teams advancing to the regional tournament. In addition, the top six individuals not on one of the top three teams will also move on to regionals for a chance at the state tournament.
For Kylee Joyce and Lauren and Kendra Worley, there is also a girls' regional tournament at Greens Folly Golf Course for a chance to advance to the state tournament individually.
The goal for the Cougars is to continue to improve their games as the season progresses toward the sub-regional tournament. 
Steagall said the team just has to continue to "shave some shots each week, and hopefully, we'll get there."
The Cougars' next match is on August 24 at Hanging Rock Country Club. The next home match is August 28 at Gordon Trent Golf Course.
(Ashlee Mullis contributed to this report.)