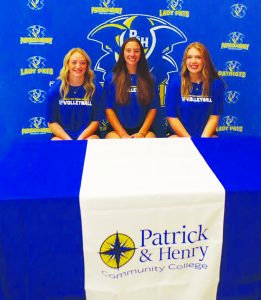 There is plenty of excitement on the Patrick & Henry Community College Volleyball Team for the new season.
"We have a lot of new talent and I'm really looking forward to what we can do in raising the numbers this year," said sophomore Emma Hankins, who added that the team chemistry is very good this season.
"Everyone is getting along really well," added sophomore Jordan Haas. 
One reason for the chemistry is the positive leadership from the returning sophomores. 
Freshman Gracie Rigney recalled that on the first day, she was "nervous, as any freshman would be. But by the second day, I just felt so welcome. Emma was very welcoming when I first came in, and I was so nervous."
"This year, I really feel the importance in leading and taking that responsibility very seriously," said Hankins. 
Haas, who didn't play volleyball in high school, said, "I can't give advice on the court, because everyone's been playing longer than I have. However, I can keep up the energy, and I can try to motivate people and stay positive."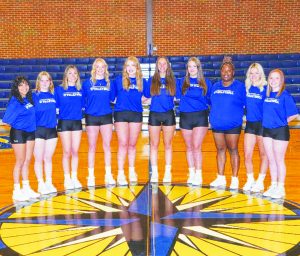 And there is another area she feels she can help lead the team. 
"I try to be a leader on the academic side, and try to encourage people to go and study, and manage their time seriously because education is what's most important," she said.
"That's a good thing about P&H. They focus on education overall, and I think that's a very important aspect. Let's be honest, none of us are going to go play professional volleyball. So, we might as well get an education," said Haas, who is studying nursing.
Hankins, who is working on her associate degree in science, agreed. 
"It's always been academics before sports. I was always taught, to get good grades, then you get the privilege of playing the sport you love."
As for the sports she loves, her new teammates, and the new season, she added, "I'm just really excited to play."