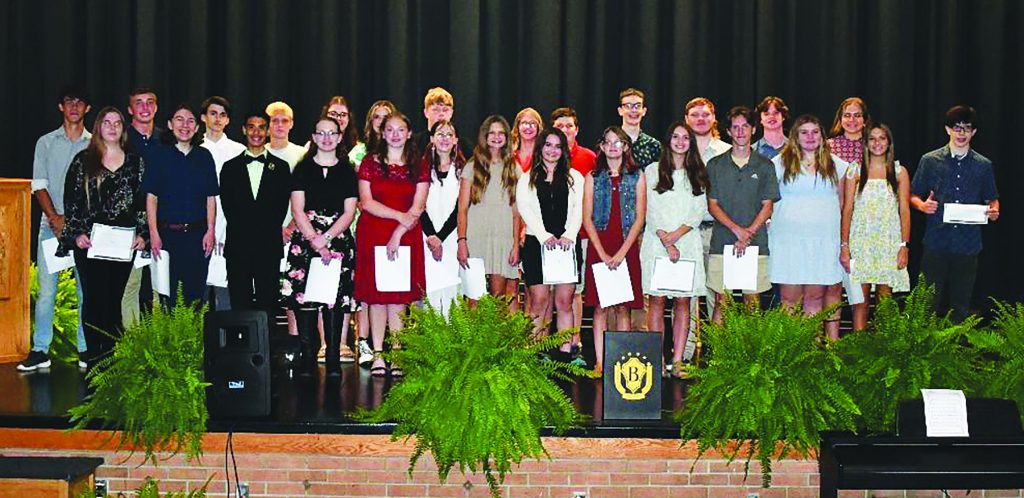 Patrick County High School recently held its National Beta Club induction ceremony. On August 29, 35 students were inducted into the National Senior Beta Club, and 17 students were welcomed into the National Junior Beta Club at Patrick County High School. 
These students were selected for membership based on their academic achievement and character and joined more than 500,000 members across the world. National Beta Club is the largest independent, non-profit, educational youth group in the United States. The National Beta Club serves to promote principles of academic achievement, leadership, and service. 
The ceremony began with a brief introduction from Patrick County High School's principal, Hope Perry, followed by a short speech from Senior Beta sponsor, Kristie Bentley. Mrs. Bentley discussed the requirements to join this prestigious organization as well as congratulated the new inductees for their outstanding achievement. She then introduced the 2023-2024 Sr. Beta officers who discussed the eight core values of the National Beta Club; these values include charity, service, humility, justice, industriousness, responsibility, cooperation, and honesty. The new Senior Beta Club members were then officially inducted, followed by the induction of the new Junior Beta Club members. 
The PCHS Beta Club is one of the oldest in the nation, and has been inducting members since 1937. The club sponsors, as well as returning members, are excited to continue this tradition by welcoming the new members into this organization. The PCHS Beta Club is proud of its new members, and looks forward to seeing how they contribute to the club.
Perry told the new inductees, "I look forward to seeing how membership in this prestigious organization will impact you and how you, in turn, will impact National Beta Club," a sentiment shared by all those involved in the PCHS Beta Club.
Sr Beta sponsors, Kristie Bentley and Jonathan Turchek, as well as Junior Beta sponsors Cami Conner and Allison Eames, are looking forward to a wonderful year. 
The following students were inducted:
Joseph Beasley
Anderson Brim
Jayden Callahan 
Morgan Cambron 
Mason Cassell
Taylor Collins 
Madison Corns 
Jason Day
Mason Fain
Jahdoir Hairston 
Addisyn Hall
Kyle Handy
Kaydence Harman
Easton Harris 
Peyton Hazelwood
Chloe Hubbard
Willow Hylton 
Elyjah Jenkins 
Lily Kelley 
Aubreigh Large
Jacob Lester 
Fisher Martin 
Hunter Martin 
Nexander Martinez De Jesus 
Remi Miller
Angel Plaster
Nathan Register
Madison Scott
Alexia Shuff
Mason Spencer
Jacob Spencer
Lacey Sutphin
William Vernon
Paige Whitt
Isabella Clark
Caleb Clement 
Karson Gillispie
Mason Hancock
Jordan Hardee
Sierra Helms
Nathan Hodges 
Soledad Huerta-Dominguez
Kiera Hylton
Mason Keith
Rylan Montgomery 
Candace Nelson-Hopkins
Camryn Perkins
William Smith
Hailleigh Wingfield
Anna Witt 
In addition to the induction ceremony, the Patrick County High School Sr. Beta Club installed its 2023-2024 officers:
Heather Edwards-President
Daryl Lynn Combs- Vice President 
Kylei Blevins- Secretary 
Rylee Soliday- Treasurer 
Kali Craig- Reporter 
Whitley Kruse- Activities Director