The Patrick County Music Association (PCMA) will continue its monthly shows on Saturday, May 20 at the Rotary Building in Stuart.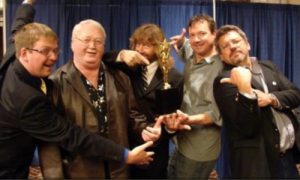 Doors open at 5 p.m. with the music starting at 6 p.m.
None of the Above will open the show at 6 p.m., and Nothin' Fancy will take the stage at 7 p.m.
PCMA President Denny Alley said Nothin' Fancy is a bluegrass quartet based in Buena Vista.
"They're very entertaining, they play a little different music than your normal bluegrass," he said.
The group has won several awards, including the 1998 Maudy River Fiddler's Convention, the 1986 Virginia Folk Music Society State Bluegrass Band Championship, and the 1985 East Coast Bluegrass Championship.
Nothin' Fancy also won the Entertaining Group of the Year award three times from the Preservation of Bluegrass Music of America (SPBGMA) — from 2008-2010.
Since its formation in 1984, the band has created 12 studio albums, with the most recent, "Undeniable," released in 2019.
Alley said None of the Above is a bluegrass and bluegrass gospel group based in Mount Airy, NC.
The cover band was formed in 2015. It recently underwent a lineup change to now include five members.
Alley said the Martinsville Speedway race took a toll on attendance for the April 15 show, with a little more than 100 attending.
"That's the first time Martinsville ever had a race on a Saturday night," he said.
Admission for the May show is a $5 donation at the door. Lawn chairs are encouraged, and prizes will be awarded throughout the night. 
Concessions will be available for purchase from the Patrick County Shooting Education Team, with proceeds going to teach children in the area firearm safety.
For more information or to watch past music performances, visit Facebook.com/PatrickCountyMusicAssociation.