James River Equipment, a leading provider of John Deere agricultural and construction equipment, is proud to announce its October fundraiser in support of the Susan G. Komen Foundation's mission to combat breast cancer. Throughout the entire month of October, James River Equipment will be running an exciting fundraising campaign centered around a custom-wrapped pink Gator Utility Vehicle raffle.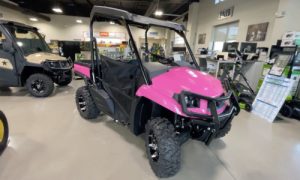 James River Equipment has wrapped a John Deere Gator Utility Vehicle in a striking pink color to symbolize support for breast cancer awareness. Raffle tickets for a chance to win this unique vehicle will be available for purchase at all 46 James River Equipment construction and agriculture locations throughout North Carolina, South Carolina, Virginia, and West Virginia from October 1st through October 31st. Each raffle ticket is priced at just $25. 
"James River Equipment is honored to support the Susan G. Komen Foundation in their tireless efforts to find a cure for breast cancer," said Michael Board, Marketing Director at James River Equipment. "We invite our customers, friends, and community members to join us in this meaningful campaign. Together, we can make a real difference in the lives of those affected by breast cancer." 
Raffle tickets can only be purchased in-store, and the lucky winner of the custom-wrapped pink Gator Utility Vehicle will be drawn on November 3rd, 2023. Make sure to mark your calendar and keep an eye out for the announcement of the winner. 
One hundred percent of every dollar raised during this campaign will be donated to the Susan G. Komen Foundation to support their crucial work in breast cancer research, advocacy, and patient support. Visit your nearest James River Equipment dealership to buy your tickets and support this vital cause. 
For more information about the fundraiser, please visit JamesRiverEquipment.com/WeDigPink.