Tabitha Overby is seeking the Commissioner of Revenue position in the November election against Glennda Morse. Cindy Kendrick, the current commissioner of revenue, will retire on December 31.
Overby, 42, said the most important challenge facing the office is the taxpayers' concerns about taxes going up.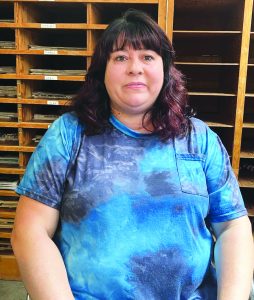 "We can't change it right now because the values cannot be changed because of the reassessment that we have," she said.
Once a new commissioner comes into play, Overby said there's nothing in the office that can really be changed because there are codes the office must go by. 
"As far as challenges for a new commissioner to step into the office and take over and to make everybody in the office comfortable with what she's going to bring into the office," she said.
Overby said one way to address any potential issues the office faces is to cross-train the whole office. In addition to being cross-trained herself, she noted the current commissioner has cross-trained new employees.
"But for the new ones that come in, they've had a little bit of cross-training of what personal property is compared to what real estate is. We can kind of help each other out," she said. "As far as the programs we work with, personal property is so confidential we cannot allow but two people to be able to see that, along with the commissioner."
As personal property deals with Social Security numbers, Overby said the office "doesn't want just anyone coming in and looking at that information."
Regarding public involvement, Overby said the public can come in and bring their ideas and concerns.
"If you have something that you're concerned about, yes, my door will always be open if I get the commissioner's job. Come in and give me your concerns," she said. "If they have ideas, bring them to me. We'll talk about it and if it's something we can't change I will definitely say, 'Hey, we can't change that information, but thank you for bringing it to the office.'"
Overby said there's only so much a commissioner can do because the office can't change values or increase or decrease the tax level. That responsibility belongs to the Board of Supervisors.
Overby said while the office also wants to be as transparent as possible, there's only so much it can discuss with the public on certain matters, like personal property.
"Like if you come into the office and let's say you want to see how many vehicles I have. You're just curious. I would have to say I cannot give you that because personal property is very confidential," she said.
With real estate, Overby said she can let the public know how much houses are assessed at "because it doesn't deal with social security numbers, so I can let you see those values." 
Overby said she doesn't see the office lacking because everyone in the office works great together.
"There's communication. If one person is having a bad day, then we know that and we can pick up the slack. There's really nothing lacking. We all work together, and the programs are good that we work with," she said.
If elected, Overby wishes to keep the office running as smoothly as it has been. This was also one of the reasons why she ran.
"Keep the office how it is because it runs so great. We're cross-trained on each other to know real estate questions or personal property questions," she said.
Overby believes people should vote for her because she has a servant's heart, which is needed because the office gets so many people who also want to talk about their past, what they're going through, and other matters while getting the help they need. 
"We're there to listen, and a servant's heart to me is number one. We're there for the citizens, that is another important factor. As anybody who comes through that door, we help them regardless. If they're not happy, pitching a fit, we still help them," she said.
A veteran of the office for over 16 years, Overby said she has also worked in every aspect of the office including reading deeds, working businesses, and personal property.
A Woolwine native, Overby graduated from Patrick & Henry Community College (P&HCC), with an Associate in clerical. She then went to the University of Virginia where she received her Chief Master Deputy Certification in 2020.
Overby's parents live in Woolwine, and her father serves as the pastor of the Apostolic Christian Church. She also has two brothers and three children.
In her free time, Overby enjoys attending church and helping with the Stuart Ruritan Club.