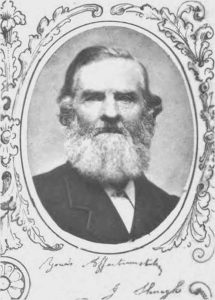 Did you know that the Patrick Springs post office used to be named Shuff? In 1857, a post office was established in the area and called Spabrook Station; two years later, the name was changed to Patrick Springs. The name was changed again in 1907, this time it was named Shuff to honor the memory of Methodist minister, Reverend Jacob Shough. I have not been able to find out why it was spelled Shuff, instead of the way the minister spelled his name, especially since the names are pronounced the same. 
So, who was Reverend Jacob Shough? According to the Sketches of the Virginia Conference of the Methodist Episcopal Church, South (1890) by John Lafferty, Jacob Shough, "This man of God was born in Philadelphia, Pennsylvania on November 11, 1814. While he was quite young, his parents moved to Harper's Ferry, (which was still part of Virginia). His opportunities for acquiring an education were limited. He had a pious mother, who taught him at a tender age the truths of religion. When in his fourteenth year, he made a profession of his faith in Jesus and joined the Methodist Church. He was twice married. His first wife was Miss Jane T. Bishop, of Shepherdstown, Jefferson County, West Virginia. This wife lived but twenty-two months, leaving him one child, who is now the widow of the late Reverend John W. Wonycott, of the Virginia Conference. In 1842, he married his second wife, Miss Lucy Fitzhugh Stuart, of Greene County, Virginia. She died on September 6, 1886. There were ten children of this marriage, only three of whom survived. He, at the age of twenty-five, March 1839, joined the Baltimore Conference, and immediately transferred to the Virginia Conference, and appointed to Madison Circuit. From that day, he served for twenty-seven years, in the itinerant work among us." 
Reverend Shough was the grandson of Josephus Antonius Schock from Johlingen, Karlsruhe, Baden, Germany; his parents were Jacob and Elizabeth Williamson Cox Shough. In the 1860 census, Reverend Shough and his second wife, Lucy Fitzhugh Stuart were living in Scottsburg, Halifax County, Virginia and he was serving as a Methodist minister. Living with the couple was his daughter, Jane Elizabeth, from his first wife and he and Lucy's children: William Gibbons, Mary Stuart, Richard Watson, Henry Bascom, and Francis Asbury Shough. 
On May 12, 1864, tragedy struck; William Gibbons was killed in a battle at Brooks Church, Virginia which is near Richmond. He had enlisted in the 19th Virginia Infantry on March 12, 1864, and was killed exactly two months later; he was 19 years old.
The first time that Reverend Shough shows up in the records of Patrick County is on the 26th of April 1864. His name appears as the father of the bride on the license for his daughter Jane Elizabeth's marriage to Reverend John W. Wonycott. 
By the time of the 1870 census, Reverend Shough and his family were living next door to Haman Critz. Critz Mill was located on Spoon Creek, and I have to wonder if this is how Reverend Shough got in the milling business.                                                                                                                                                                                Reverend Shough and Lucy's son, Francis Asbury (named for the British-born Methodist minister) married Mary S. Taylor of Patrick County. Francis and Mary's children, Roxanne Shough Roberts and Robert Milton Shough have many descendants still living in Patrick County today. On October 1, 1881, a horrible accident occurred; 36-year-old Francis was moving a bull to a different pasture. He had tied the rope around his wrist when the bull ran off, dragging him to his death. 
Reverend Shough's other children married and raised their families in the area. Henry Bascom married Rosellie Cheshire, from Leaksville, Rockingham County, North Carolina and had at least eight children. Mary Stuart married Christopher Columbus Gregory, a blacksmith from Nettle Ridge and had a large family. Richard Watson married Almira Jane Carter from Ararat Post Office district and had ten children. 
Lucy passed away at the age of 70 on the sixth of August 1887 and Reverend Shough lived for five more years, passing away at the age of 77; their will is recorded in Will Book Volume 8 at the Patrick County courthouse. 
Reverend Shough left his Spoon Creek Mill to his sons, Richard Watson and Henry Bascom. He left Richard the family Bible and his gold watch and Henry all land that was not attached to the mill. He left daughter Mary her mother's gold locket, silver teaspoons, their clock, and a rocking chair. He asked that his library of books be divided amongst his children, with the exception of his collection of Adam Clarke's Commentary of the Bible. He asked that this collection be given to his little granddaughter by his first wife, Carrie B. Wonycott. 
Woody may be reached at rockcastlecreek1@gmail.com or (276) 692-9626.