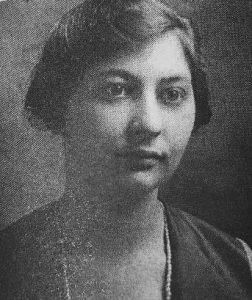 Thank you to Suzanne Hopkins Hutchens for the following information about her aunt, Rosa Elizabeth Hopkins Agee, and to the late Beulah Wright Hopkins and her book, Central Academy 1910-1932. 
Rosa Elizabeth Hopkins was born on the 20th of December 1899 on the "north side of the mountain" near Buffalo Ridge, Patrick County. Her parents, James Daniel Hopkins and Emily Louetta DeHart Hopkins, moved to the "south side of the mountain" at Howell, Virginia at the Crossroads in 1910. Rosa grew up in the home that was later owned by A.C. and Lillian Williams Carter. I have heard several folks say that this grand old home will be moved soon to avoid the path of the new four-lane for Highway 58; I sure hope this is the case. 
Rosa attended nearby Central Academy where she excelled as a student. After graduating from school, she entered Harrisonburg State Teachers College where she studied Latin and Home Economics. Rosa graduated in 1921 with a Bachelor of Science degree and returned to Patrick County to begin her teaching career. 
Suzanne Hopkins Hutchens' mother, Essie (Mrs. A.D.) Yeatts Hopkins recalled her memories of "Miss Rosa" in her journal…. "It was in late May 1919 that I first saw "Miss Rosa." She, with a part of other young people, stopped at our place, the Yeatts, on their way to the Pinnacles on the Dan River. I was told the picnic was at the foot of the Pinnacles, after which the boys and some of the girls climbed the peaks. When they returned to our home in mid-afternoon, rather exhausted, our cold spring water was a welcome refreshment. All the girls were lady-like, yet full of fun and enthusiasm.  "Miss Rosa" especially impressed me because of her kind smile. Her hair was dark brown, her skin fair and flawless with no hint of make-up, and her lips were a deep rose. Her eyes, her most striking feature, were large ovals of pure gray. Gentleness and kindness seemed to emanate from her when she spoke, so I knew instinctively that she was a person one could trust and respect. In 1921 or 1922, a Presbyterian Minister, Mr. Roy Smith, began having preaching services in the Mayberry School, as the Brethren were doing once monthly, and Baptist had done with Mr. Billy Shelor as preacher. Soon afterward, Mr. Smith with "Miss Rosa," Miss Marion Talley and a few high school students from Central Academy, organized a Sunday School.  Revivals were held and many conversions or professions of faith were made. Soon plans for a church in that community began to develop. When Mayberry Presbyterian Church was organized, one convert, Samuel Cephas Scott, the local merchant, gave the land for its location. Through community efforts and gifts of labor, material, and money from many sources –farmers, teachers, mail carriers, merchants, and perhaps the Presbytery –finally the completed building was dedicated in 1926. Throughout most of the twenties, the group from Central Academy led by "Miss Rosa" used her car for transportation to keep the Sunday School going at Mayberry.  Around the mid-twenties, Mr. Smith introduced a younger man, Robert Childress, to this field. He was a moving evangelist who worked tirelessly toward getting the church built, and one who perfectly understood the mountain men. Although Childress came from Richmond to Mayberry about every other Sunday, except in the most severe weather, the cadre from Central Academy kept the Sunday School going while he was absent. Another summer, Miss Marion Talley and "Miss Rosa" spent several weeks assisting Mr. Childress with revivals at Mayberry, Free Union, and Buffalo Mountain."
Mrs. Essie Yeatts Hopkins recalled that when she entered Central Academy in 1927 as a freshman, "Miss Rosa" was teaching Latin and Domestic Science –cooking, homemaking, and sewing. Mrs. Hopkins recalled, "teaching a group of farm girls, inexperienced in most tasks of homemaking beyond dishwashing, must have required a tremendous amount of patience. But "Miss Rosa" was equal to the task, remaining serene and without frustration even when sewing machine needles were broken or we let the applesauce scorch. Although the atmosphere was informal and pleasant, she always expected, and had, the complete respect of the girls."
Mrs. Beulah Wright Hopkins echoed the same sentiments about Rosa, "In considering teachers I knew in various stages of my education, I must select "Miss Rosa" for whom I feel most gratitude and admiration. Her wisdom, talent, intelligence, industry, and helpfulness made her the mainspring of the school for several years. Upon her expert direction, we learned to cut and sew clothing; to do various types of embroidery, trimmings, and handicrafts; and to plan, cook, and serve meals."
Rosa also taught Latin and served as the drama coach, producing plays as fundraisers for the school. In 1930, Rosa was appointed principal of Central Academy and served in that capacity until she married Epperly Agee on August 15, 1931. Agee had also attended Central Academy and went on to graduate at Virginia Polytechnic Institute (VA Tech) and teach agriculture at Burke's Garden, Virginia.
On March 20, 1933, Annette Elizabeth Agee was born to Epperly and Rosa Hopkins Agee and tragically, Rosa died nine days later. Annette was raised by Rosa's parents, J. D. and Emily DeHart Hopkins at the Crossroads, near the school where her mother had dedicated much of her life. 
Thank you again to Suzanne Hopkins Hutchens for providing much of the information on Rosa. Woody may be reached at rockcastlecreek1@gmail.com or (276) 692-9626.