I have had several people ask me if I know anything about the history of Tuggle's Gap and if it was the namesake for any Tuggle in particular, so I have been doing a little research. Here goes …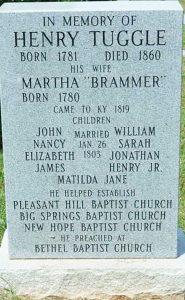 According to Virginia and Lewis Pedigo's book, History of Patrick and Henry Counties, Virginia, written in 1933, "the Tuggles first emigrated to the colonies in 1614, only seven years after the founding of Jamestown Colony. Old records at Saluda, Middlesex County, Virginia, show that they kept coming until about 1740; the Tuggle men were listed at lawyers, planters, teachers, preachers, and surveyors. 
Mrs. Clarissa Ruth Barnes Smart, a 10th generation Tuggle descendant, who wrote the Tuggle Family history, states that the very first Tuggle to arrive on Virginia's shores was Thomas Tugwell. He received a land grant in Middlesex County, Virginia and raised his family there. His son, Henry signed his will, Henry Tuggle, in 1742, and this has been the spelling of the family name ever since. Many members of the early Tuggle family are buried at Christ Church Episcopal Church (built in 1666) in Saluda, Virginia. 
Early American Tuggle descendants traveled westward through Goochland and Albemarle before Joshua Tasherway Tuggle and his cousins, father and son, John and Reverend Henry Tuggle arrived in Patrick County after the Revolutionary War. Tracing which Henry Tuggle is which has been a challenge, since nearly every Tuggle family had a son named Henry, including first cousins named Henry! 
Joshua Tasherway Tuggle, my 6th great grandfather, fought in the Revolutionary War (Captain Samuel Cabell's Company of 6th Virginia Reg. of Foot, commanded by Lt. Col. James Hendricks (April-July 1777).  He re-enlisted July 1778 in Captain John Marks's Company, 14th Virginia Reg. commanded by Colonel Charles Lewis. Joshua was among the troops that spent the winter at Valley Forge.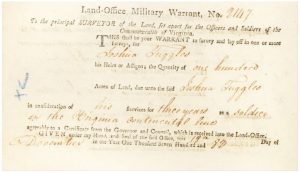 In 1807, Joshua and wife, Elizabeth Pace Tuggle moved their family to Patrick County where he purchased 400 acres on Rock Castle Creek from his cousin Reverend Henry Tuggle, who had resided there since 1790. The couple's sons, Joshua Jr., Henry, and John eventually moved westward to Scott County, Illinois and son Lee moved to Gallian, Ohio. Joshua and Elizabeth's daughter, Suzannah settled in Russell County, Virgina with her husband, James Singleton. The youngest daughter, Mary (my 5th great grandmother) remained on the land that her father purchased from Reverend Henry, and this is where she married Prior Pendleton. 
Prior and Mary Tuggle Pendleton were the parents of William "Billy," John, Elizabeth, Harden, Jane, Anna, Royal Josiah, Wilson Tyler, and Exoney. Elizabeth married Samuel Hubbard, Anna married David Washington, Sarah married James Dudley Lyon, and Exoney married Nathan Benjamin Terry. Billy married Elizabeth Hubbard, Harden married Ruth Burnette, Royal married Nancy Burnette, and Wilson Tyler married Sarah Elizabeth Conner. Wilson died during the Civil War and is buried at the Old City Cemetery in Lynchburg, Virginia. 
Sadly, more tragedy struck on the 24th of February 1857; 68-year-old Mary was crossing Jack's Creek when she fell in the creek and drowned. She and Prior are buried on a ridge above Jack's Creek on Brammer's Spur Road in Woolwine. 
Let's get back to Reverend Henry Tuggle, who originally acquired this same land in 1790 from his father, John. Reverend Henry's parents, John and Elizabeth Harrison Tuggle had moved his family from Goochland, Virginia to Patrick County in the late 1700s. Reverend Henry married Miss Martha Brammer in Patrick County on the 26th of January 1803. Martha was the daughter of Burgess and Mildred "Mollie" Boyd Brammer. Reverend Henry and Martha raised many children on Rock Castle and Jack's Creek before eventually selling out to Joshua Tasherway Tuggle and moving to Wayne County, Kentucky. 
So … eight paragraphs later, I believe that Tuggle's Gap was actually named for John Tuggle or possibly his son, Reverend Henry Tuggle. Tuggle's Gap was an early mail stop for stagecoaches in the mid 1800's and the name stuck. The following is an interesting excerpt from the Richmond Times Dispatch on March 30, 1863: "Route 2496-From Patrick Courthouse, by Elamsville, Rock Castle, and Tuggle's Gap to Floyd Courthouse; 35 miles and back, once a week. Leave Patrick Courthouse Wednesday at 6 a.m. Arrive at Floyd Courthouse same day by 6p.m. Leave Floyd Courthouse Thursday at 6 a.m. Arrive at Patrick Courthouse same day by 6 p.m."
Woody may be reached at rockcastlecreek1@gmail.com or (276) 692-9626.