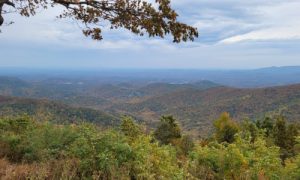 I have not had a chance to do much research this week since we are coming up on the last few days of school. I thought for this week's column, I would share some wonderful history from the former postmaster of Woolwine, the late Mr. Walter Anglin. 
One of my favorite books at the Patrick County Historical Museum is entitled "Random Observations" by Walter Anglin. How I wish more folks born in the 19th century had written down their memories! The following paragraphs were taken verbatim from Mr. Anglin's book that was published many, many years ago. 
"My children: Polo, born 1912 married Edith Bryant, born 1914; Iris, born 1918 married Aubrey Via, born 1916; Arko D., born 1915 married Margaret Corns, born 1925; Byng, born 1922 married Janet Stockner, born 1931. My wife, Nora N. Cox, born 1891, died 1941, the mother of my children. She was industrious, comely, clean, and determined with energy. And with much hardship and disappointments, she put up with me the last thirty years of her life." 
"My father told me that the turnpike road was built through here by Woolwine in 1858 from the Floyd way, and on to Bull Mountain by 1861, where the work ended with the outbreak of the Civil War. Harvey Deskins contracted in the work. Heck Williams was a builder at $500 per mile. As directed by law, these turnpikes were being built between county seats at county and state expense. The last three-cornered white milepost with black lettering I saw was west of Woolwine." 
"Roads up the Blue Ridge (Stuart and Floyd mountains) were Carroll Pike, Winding Stairs at Lover's Leap, River Road, Conner's Spur Road, Brammer's Spur Road, Rock Castle Creek Road, Wood's Gap Road, Shooting Creek Road, Joint Crack Creek Road, and Runnet Bag Creek Road." 
"Long ago, Woolwine had a nickname of Humpville, a little later was Hogtown, Tuggle's Gap was Maberry's Gap, Smith River was Irvine River and also Flat Creek, Fairystone Park was first Hairston Iron Mines, and later Fayerdale." 
"Ben Belcher (Benjamin Byrd Belcher) told me that above his house near top of the Brammer's Spur of the Blue Ridge, north of the trail in the big ivy is the grave of an unknown longhunter killed by Indians and buried by the hunter's companions. Mr. Belcher said that he saw two eyes shining in a pile of rolling leaves on a mountain path, so he knew he was in for a battle, and he cut a club and won. The panther gave up the fight and went away. One day, a bear walked up to his door and looked in."
"An early John Brammer was out hunting and saw a panther kill a deer. He shot the panther. This John Brammer was the start of many families we have now. He once moved to Kentucky by pack saddle and returned in a year or so. His home was below Reynolds Handy's. He was about the great-great grandad of Joe Henry Belcher. He was my kin. There has always been a John Brammer." 
Mr. Anglin was certainly right about Brammer being the start of many families, as I am also a 5x great granddaughter of John Brammer and Mary Elizabeth Burgess, through their son, Burgess Brammer and wife, Mildred Boyd. I would "guesstimate" that about half of Woolwine are descendants of this union. 
Next week, we will look at some more of the amazing tales in Mr. Anglin's book, including superstitions, ghost stories, and local history. 
Woody may be reached at rockcastlecreek1@gmail.com or (276) 692-9626. 
(Note: I appreciate all the phone calls and messages I have received in support of this column. I plan to respond to each one once school is out for the summer. Thanks!)