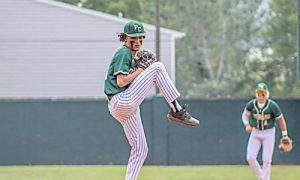 The PC Cougar Baseball Team defeated Buckingham County Friday, 10-3, to earn a spot in the State Championship Game Saturday.  
Jai Penn got the start on the mound going 4.1 innings and was credited with the win. Penn gave up 3 runs on 3 hits, struck out 5, and walked 6. Jackson Horton, Stuart Callahan, and Hunter Pendleton finished off the final 2.2 innings in relief giving up 0 runs and 1 hit combined.  
The Cougars were on top of their game at the plate, pounding out 12 hits. Martin Sawyers and Broc Taylor had 2 hits each, and Taylor had 2 RBIs. Horton and Pendleton both drove in 2 runners and Braedon Augustine had a big pinch hit double, driving in 1.