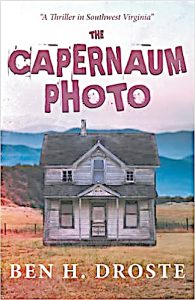 I received the nicest letter from Ben H. Droste (pronounced Drah-stee) the other day. Ben is the grandson of the late Abram Ernest "Boss" Handy and Lelia Watkins Handy of the Five Forks community. Ben had written to tell me how much he enjoyed the Patrick Pioneers column on the Boss Handy house. 
Here is an excerpt from his letter…. "Boss Handy was my grandfather. I was only 21 months old when he died in 1951, so I never knew him, but I spent many summer vacations at my Grandmother Handy's house when I was growing up with my three siblings. My mother, Ann Clark Handy, was the last of nine children raised in the house. Of the seven sons, two became doctors (Stafford and Ernest, Jr.), three were dentists (Ralph, Phil, and Douglas), and one was a pharmacist (Kenneth). The remaining son, Edgar Handy married Miss Vergie Harris and they built a house across the road from the Boss Handy home. They had one daughter, Neville who married Gilmer Roberson." 
Droste continued, "I have fond memories of the time at Five Forks, the chicken coop and chickens, the eggs cooked on the potbelly stove, picking blueberries, catching butterflies during the day and lightning bugs at night. Because of the cool mountain air, it was always nice and refreshing."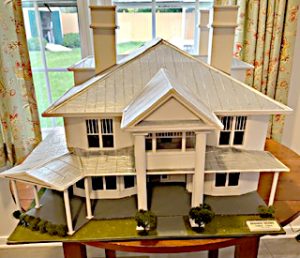 Ben visited his grandparents' Five Forks home several times after his grandmother passed away. The home was owned by others then, but Ben and his family were allowed to go in and look around. On one visit, Ben took 23 pages of measurements and his wife, Linda, took over 100 photographs of the home. When Ben retired, he spent nearly a year building a 1:25 scale model of the Boss Handy home so that "I can look at the house anytime and renew my childhood memories." 
Ben loved the house and the area so much that he chose it as the setting of his novel that was published on Amazon this past February, "The Capernaum Photo: A Thriller in Southwest Virginia." I have read the book and would recommend it to anyone who enjoys reading mysteries. The Town of Stuart and the Five Forks area are the setting for much of the novel: the characters travel along Salem Highway (Route 8), Highway 58, and 220 to Stuart, Floyd, Martinsville, Roanoke, and Blacksburg (among other places).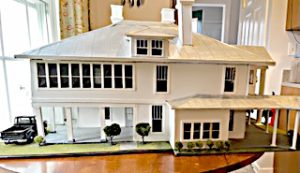 I asked Ben if he had contacted anyone in Stuart to let them know about his book and he said that he hadn't because he did not want to appear presumptuous. I told him that was nonsense because I was sure that folks in Patrick would want to hear about his book, so I asked him if I could write a column about it. 
I will close with his biography which is on the back cover of the novel (available on Amazon). Ben Droste is retired and lives in Richmond, Virginia. Their two daughters and three grandchildren live in the area. This is Ben's second book, but first novel. His novel is based in Stuart, Virginia, an actual small town in southwest Virginia. As a boy living in Tidewater, Virginia, Ben spent several summer vacations in Stuart visiting his grandmother, going downtown, and having fun with the scenery. He has many fond memories of his visits to Stuart, and the boxwoods in his backyard are the grandchildren of the bushes from his grandmother's house. 
Woody may be reached at rockcastlecreek1@gmail.com or (276) 692-9626.