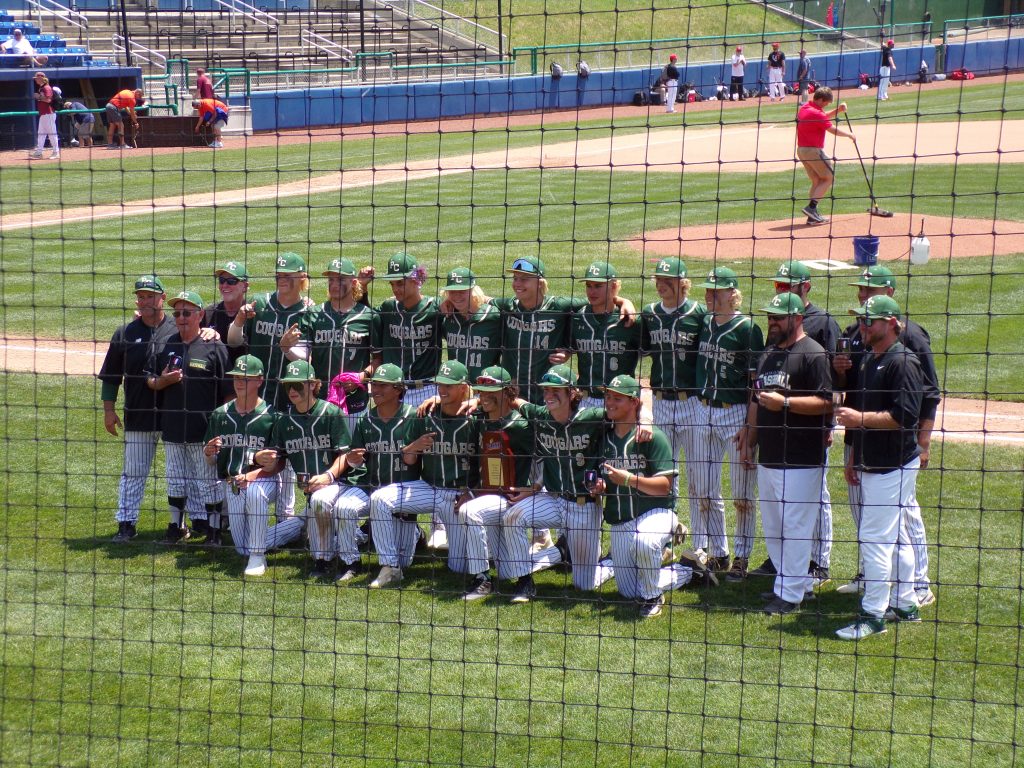 "It's just a great day. It's a great day to be a Cougar," Patrick County High School head baseball coach, Tal Swails said after the Cougars' 7-3 state championship win over the Poqusoson High Islanders.
The 2022-2023 Class 2 State Baseball Championship, played at Salem Memorial Ballpark, was the culmination of a 23-5 season for the Cougars.
"These guys worked their tails off to get here, and quite frankly, they expected to be here," Swails said. "That makes a difference, when you get guys that know what they're capable of and they execute."
The Cougars appeared loose and comfortable during pregame warmups. When the game started, they jumped on Islander pitching. Jaivontae Penn led off with a walk, then the Cougar bats came alive with two well hit doubles to the gap in left-center field. When the inning was over, the Cougars were up 3-0. The solid hitting continued, adding two runs in the second and another in the third, forcing the Islanders to go to their bullpen early.
Tucker Swails, Tal Swails' son, pitching on just three days' rest, put together a gutsy performance in his 5 1/3 innings on the mound. While giving up eight hits, he allowed only one earned run, while striking out eight Poquoson batters.
"Tucker was coming back on three-day's rest. Think he threw 94 or 96 pitches on Tuesday. To turn around and throw 96 again, that's a lot in four days," said Coach Swails. "He didn't have his absolute best stuff, but man, he just freaking gutted it out. He just gutted it out and threw strikes, and that's the most important thing."
Behind Tucker Swails, the defense was solid, helping to keep the Islanders from scoring even though they threatened in several innings. 
"Don't give them outs, don't walk them, and we played defense, and that's how you win games," Coach Swails said.
After two leadoff Islander singles in the sixth, Tucker Swails got the first out, then Coach Swails handed the ball over to Stuart Callahan to finish out the game. Callahan, who was 4-4 with 3 RBIs at the plate, pitched well in relief, allowing just a single run on two hits and striking out three. 
Offensively, Jai Penn, Martin Sawyers, and Noah Jessup had multiple hits. Penn crossed home plate three times.  
It was Callahan's final strikeout, a called strike three, that gave the Cougars the championship. Cougars poured from the dugout, joining fielders, tossing their gloves and hats into the air on their way to the mound for a victory celebration.
In the stands, the Cougars had plenty of fans in green and gold who had made the trek to Salem. With the Cougars one out away from the championship, the Patrick County faithful rose to their feet, clapping and yelling their support. They erupted when the umpire called strike three for the final out of the game.
Among those in attendance was Del. Wren Williams, R-Stuart.
"This is amazing because we've never won a state championship in our high school's history," Williams said after the game. "This group of guys have been playing together for a very long time, so we knew we had an excellent shot."
Many others in the stands voiced similar sentiments. Some said just reaching the championship game was an amazing accomplishment and how proud they were of the team, no matter the outcome. That sense of pride for Patrick County High School, and in the whole of Patrick County, was unmistakable among those in the green and gold.
Excitement over the Cougars championship victory reached from Salem all the way to Patrick County. When word got out on social media, thousands voiced their support and congratulations to the team and coaches. Others waited for the team's arrival back in Patrick County, where they would welcome their newly crowned champions home with a parade complete with sirens, signs, banners, and cheering fans. They also were honored at the annual Beach Music Festival. 
"It has been an absolutely amazing experience. I am proud to be a Cougar, proud of our guys and our program, and proud to have represented the wonderful folks of Patrick County," Coach Tal Swails said. "It has been exciting to see the energy build up for this program and our school. Green and Gold pride has been so evident and was so powerful for these guys! The support and love from our community has been just over the top incredible."
Following the game, the Cougar players showed their respect for the Islanders, clapping as they received their runner-up awards. Then, one by one, the Cougars received their championship medals. A beaming coach, Tal Swails was waiting for each player, congratulating each with a handshake and hug.
Coach Swails was then called up to receive the 2022-2023 Class 2 State Baseball Championship trophy. After a moment with the trophy, he raised it high overhead for all to see. Still raised high, he passed it off to his players, who celebrated their achievement together, as a team.
Coach Swails best summed up the day. 
"Getting the early lead and letting your pitcher settle in and do their thing," he said, pausing to reflect, and adding, "it was a perfect day."
*Ashlee Mullis contributed to this report.