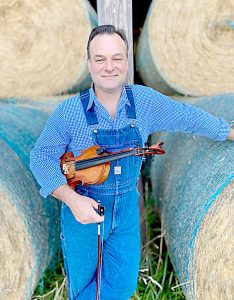 The last of the Patrick County Music Association's (PCMA) monthly shows before a summer break is set for Saturday, June 17 at the Rotary Building in Stuart.
Doors open at 5 p.m. with the music starting at 6 p.m.
The Larry Mabe Old Time Band will take the stage at 6 p.m. and Mike Mitchell Band will perform at 7 p.m.
PCMA President Denny Alley said the Mike Mitchell Band is based in Floyd, and headed by Mitchell, a professional music instructor, singer, songwriter, and fiddler. 
"Right now, on the Bluegrass Countdown, he's got the number one song for four or five weeks, and he's got the number one video," Alley said.
Mitchell has released three albums, with the latest one, "Small Town," having debuted on Billboard at number two. His latest project, "Fathers & Sons" had three chart-topping singles, with the most recent one, "Making Hay" at number 8 on the Bluegrass Unlimited National Bluegrass chart.
"He's got a heck of a band. He's got two brothers out of Nashville that's really good," Alley said.
The Larry Mabe Old Time Band is from Woolwine.
Admission is a $5 donation at the door. Lawn chairs are encouraged, and prizes will be awarded throughout the night. 
Concessions will be available for purchase from the Patrick County Shooting Education Team, with proceeds going to teach children in the area firearm safety.
For more information or to watch past music performances, visit Facebook.com/PatrickCountyMusicAssociation.