Voters who plan to cast a ballot in the Republican Party Primary will head to the polls on Tuesday, June 20. All polls will be open from 6 a.m. to 7 p.m.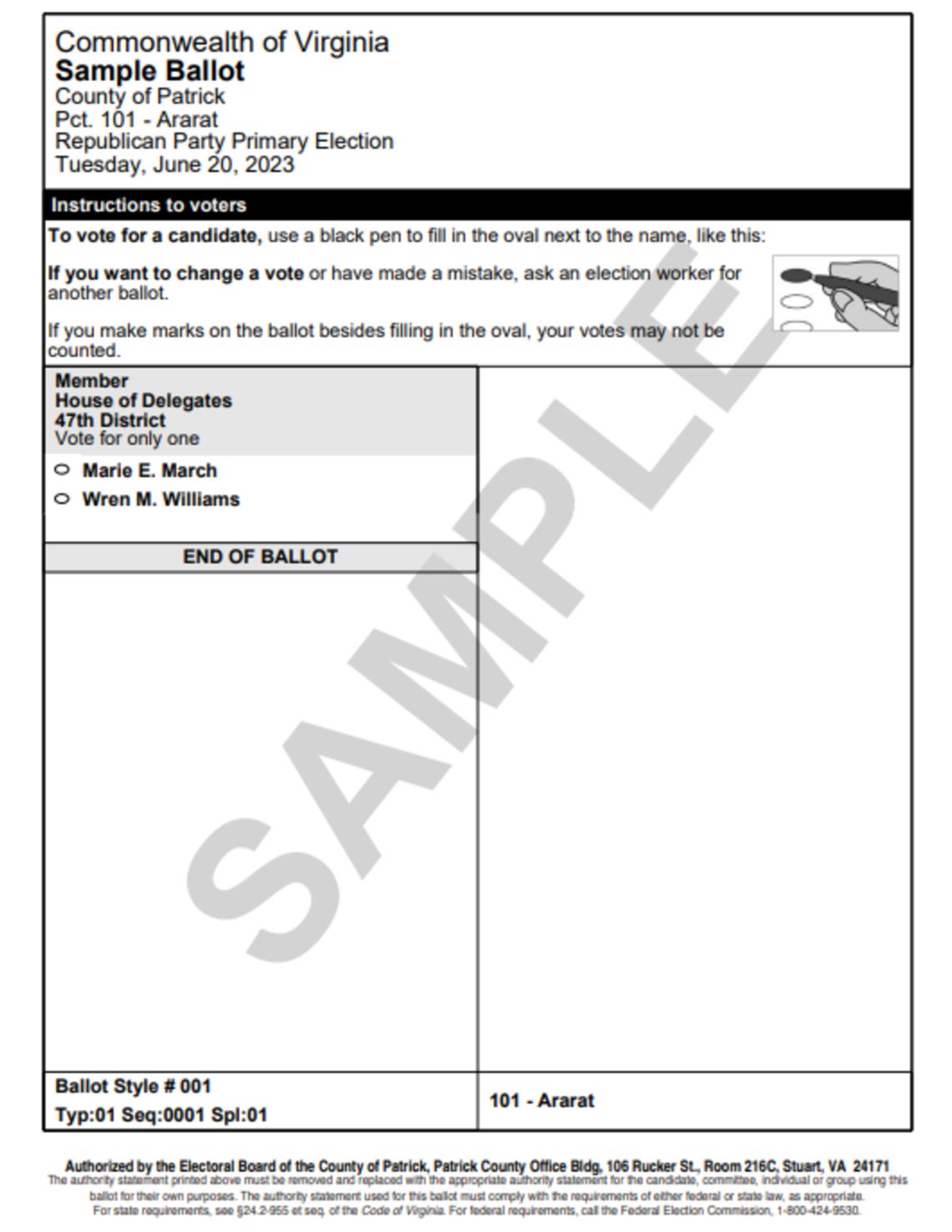 A sample ballot is shown here with the names of the candidates. 
Voters are also reminded to bring an acceptable form of identification with them on Election Day, as Virginia law requires that all voters present an acceptable form of identification when voting. Any voter who does not have an acceptable ID may sign an ID confirmation statement. 
A registered voter needing to vote early may do so in person in the Registrar's Office, located at the Patrick County Veterans' Memorial Building, 106 Rucker St, Rm 216C, Stuart. The office is open Monday – Friday, 8 a.m. to 5 p.m. The final day for early voting is Saturday, June 17, at 5 p.m. 
For additional information contact the Registrar's Office at 276-694-7206. 
Due to redistricting, Patrick County voters may be voting at a different polling location than they have in the past. Voters are encouraged to visit https://vote.elections.virginia.gov/VoterInformation or contact the Registrar's Office to check their information prior to Election Day. 
Polling places in Patrick County and their locations are: 
Dan River District Ararat
– Ararat Ruritan Bldg. 4711 Ararat Hwy. Claudville 
– Claudville Community Bldg. 1828 Red Bank School Road, Willis Gap
– Willis Gap Community Center. 144 The Hollow Road 
Peters Creek District 
Dry Pond – Peters Creek Community Bldg. 2130 Dry Pond Hwy. 
Patrick Springs – Patrick Springs Fire Station 181 Spring Road
Russell Creek – Russell Creek Community Bldg. 1808 Ayers Orchard Road
Mayo River District 
Critz/Stella – Hardin Reynolds Elementary School 3597 Dogwood Road
Liberty – Patrick Henry Volunteer Fire Department 3125 County Line Road
Blue Ridge District 
Meadows of Dan – Meadows of Dan Community Bldg. 2858 Jeb Stuart Hwy 
Stuart Fairgrounds – Hooker Building, Rotary Field, 420 Woodland Dr. 
Stuart Community – Stuart Community Center (Patrick Henry Community College, Patrick Site) 212 Wood Brothers Dr. 
Smith River District 
Elamsville – Fairystone Fire Station 6687 Fairystone Park Hwy. 
Woolwine – Smith River Rescue Squad Bldg. 9962 Woolwine Hwy.