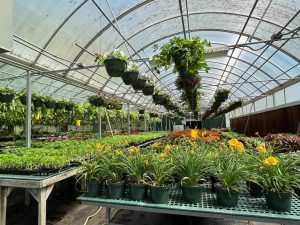 Patrick County High School (PCHS) is currently holding its annual plant sale to raise funds for the horticulture department.
The sale is held at the greenhouse, from 9 a.m. to 3 p.m. on school days through Friday, May 19.
Horticulture teacher Eli Roberson said the sale has been held for more than 10 years with the goal of giving students the opportunity to run the greenhouse like a normal retail store, or garden center, with Roberson acting as the supervisor.
"We'll have customers come in, and students will help them with their plant selection process, or any inquiries customers have, students will help them. Then students will also collect the money and exchange receipts," he said.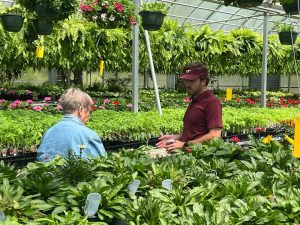 Funds raised from the sale will go back into the horticulture program, Roberson said and estimated the sale has raised around $6,000 since it began.
"Basically, the horticulture program kind of has its own business account, so the funds from the plant sale will be used for the program. It's what we use to buy our next crops," he said.
In the fall, Roberson said the program raises poinsettias and sells them after Thanksgiving.
"So, we try to have revenue coming in each semester because it costs a lot of money to maintain a greenhouse. It's kind of like our business account is what it goes back into because we're constantly having to spend money as well," he said.
Available plants include a variety of annuals such as geraniums, petunias, and impatiens, flower hanging baskets, and Boston fern hanging baskets.
"A variety of tomatoes, peppers, cucumbers, squash," also are offered, he said, adding "all that good stuff."
Large decorative pots are $35, and medium decorative pots are $25. Six-inch pots are $6, an 1801 tray is $22 each, and singles are $1 each.
"All the hanging baskets are $15. A 1204 tray is a tray of four packs and totals 48 plants, and those are $15, which is what a lot of our vegetables are in and some of our annuals," he said.
Roberson said he believes the best-sellers are the hanging baskets.
"As far as planters are concerned, each customer has their particular favorite annuals that they like to plant. I haven't really seen one particular annual sell out faster than any other one," he said.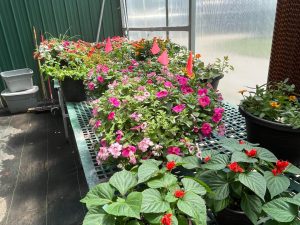 While he is unsure of how much the sale has raised in the past, Roberson estimates the December poinsettia sale raised more than $5,000.
"We get the poinsettias in late July, and the kids raise them from plug trays. Then as customers pick out their poinsettias, the students wrap the poinsettia pots in decorative foil, and they also make decorative bows," he said. "That keeps us busy during Christmas time."
For more information, call the PCHS greenhouse at (276) 694-6453, email Roberson at eli.roberson@patrick.k12.va.us, or go to Facebook.com/PatrickCountyHighSchool.