A parcel of land in Patrick County's Rich Creek Corporate Park has been deemed a Tier 5 site by the state, according to the now-former Patrick County Economic Director Sean Adkins.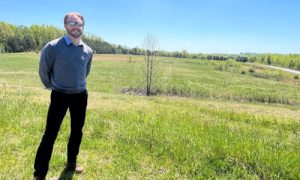 Adkins, who learned about the distinction shortly before leaving his position at the end of April, said the new designation moves the site to the top of the list for potential companies looking to relocate, Adkins said. The nearly 30-acre graded site could hold up to two buildings, with more than 300,000 square feet.
"It's the only real flat site that we have in the county. So, for us to get designated a Tier 5 it might seem minimal to some folks here, but it was a big day," he said.
Virginia and the Virginia Economic Development Partnership (VEP) created a tiered system of 1-5, with one being at the bottom and five being at the top.
"Well, one at the bottom is essentially that the locality owns it. It's better than nothing, but you're not likely to get any hits on it," Adkins said. 
The tiers have various requirements, "all the way up to Tier 5, which is shovel-ready, everything is good to go, due diligence has been done," Adkins said of the distinction that means a site "basically checks every box – environmental, engineering, access to utilities."
Adkins said the Tier 5 designation means a company looking knows everything about the site is completely vetted.
"Conceivably, once the permits are done you could put a shovel in the ground tomorrow and get going," he said.
The site previously was a Tier 2 site, Adkins said, adding that it's not normal for a site to move up three-tier rankings.
"I was pleasantly surprised that we got up to Tier 5, but I think a lot of it was because of old information. You know, they hadn't really done any work to this site in terms of due diligence, and really just hadn't had attention paid to it for a while," he said.
When a company comes to Virginia and shares its vision for the property, that potentially could lead it to the county's site.
"Now, the state of Virginia will say 'Here's our Tier 5s,'" Adkins said. "That will let us put our hat in the ring, and it makes it a much more nice-looking hat," he added.
"There are covenants and restrictions for this park, so nothing toxic or nuclear, or anything that requires a foundry of sorts," however, any manufacturing or industrial company can come to the site with few restrictions, he said. 
Adkins has also talked to a few potential prospects about the property, with the more serious ones being a food manufacturing distribution company and an electric vehicle production company. 
"The fact that I call them prospects means it's not just casually," he said.