Maria Turner, a senior at Patrick County High School, was recognized as the western region winner of the 2023 Student Creative Expressions Contest, sponsored by Dominion Energy and the Library of Virginia as part of their Strong Men & Women in Virginia History program.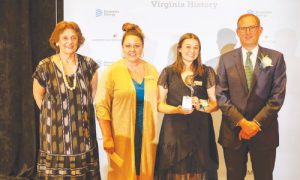 The annual program recognizes notable African-American business and community leaders who have overcome obstacles to make significant impacts across the state.
"Each generation builds on the achievements of the one before. That's why we are proud to honor Strong Men & Women in Virginia History who have used their talents and efforts to improve communities for the present and future generations," said Bill Murray, Senior Vice President for Corporate Affairs and Communications at Dominion Energy.
Members of the armed forces, engineers, authors, community leaders, educators, journalists, judges, and politicians have been celebrated throughout the program's history. 
"These amazing men and women have proven that hard work and determination can shape one's destiny and the world. Throughout time, African-American leaders have used their unique skillsets and unwavering passion to mentor leaders of the future. It's important to honor their efforts and their legacy," said Sandra G. Treadway, Librarian of Virginia.
In 2013, Strong Men & Women in Virginia History was born when Dominion Energy and the Library of Virginia began a new educational initiative that merged two phenomenal Black History Month programs: Dominion Energy's 22–year–old series, Strong Men & Women: Excellence in Leadership and the Library of Virginia's eight–year–old program, African American Trailblazers in Virginia History. 
As part of the initiative, high school students from each region of Virginia are invited to participate in a contest to honor outstanding African Americans and share stories they feel may be missing from the mainstream narrative.  
Maria, her family, and Mrs. Hope Perry, PCHS principal, attended the June 16 gala in Richmond, where Maria was recognized and awarded an Apple MacBook Air laptop. Mrs. Perry also accepted $1000 on behalf of PCHS as part of Maria's recognition.  
Maria's essay honors Kitty Reynolds, a former slave of the Rock Springs Plantation (now Reynolds Homestead).   
Maria's winning entry is reprinted below:
Kitty Reynolds
Description: Although the story of Kitty Reynolds took place at a very well-known landmark in my county, I had never learned about her until I began searching for stories within my community that are not always told. She and her family had a large impact on all African Americans and their right to a fair trial. It is crucial to share stories like Kitty's, and, while this seems like an immense undertaking, it can truly be achieved by simply telling the story. It is a great responsibility to tell the untold story, but it does not have to be a grand gesture. While impressive events can be held in remembrance of people with hidden stories, their anecdotes are best spread through plain actions, such as my short essay about Kitty. Sharing a story like Kitty Reynolds' is best accomplished by directly telling the story to others. I believe my written project recounts Kitty's life in a way that honors her courage and compassion, emphasizes the influence she had, and informs others of the notability of her life's story. 
Kitty Reynolds, a formerly enslaved woman at Rock Spring Plantation, was the mother of two men whose court proceedings led to a significant change in civil rights. From the stories that have survived, Kitty was a compassionate, strong woman who, despite the challenges she faced, persevered. Her memory is kept alive by her descendants, and her portrait is displayed in the Reynolds Homestead, the plantation where she was enslaved (Deffenbaugh).
Kitty was born in 1838 and, for the majority of her life, she was enslaved at Rock Spring Plantation, now the Reynolds Homestead. This plantation was built by Hardin Reynolds, the father of R.J. Reynolds who created the R.J. Reynolds Tobacco Company ("The Reynolds Family"). One story of Kitty that has passed through the generations describes her distracting a bull-charging Hardin Reynolds, the man under whom she was enslaved, thus saving his life. This act of kindness and courage secured her spot as the nanny of the sixteen Reynolds children (Deffenbaugh).
Kitty's life changed exceptionally with emancipation. She became a free woman after living her entire life enslaved (Deffenbaugh). After this substantial adjustment, the Reynolds children Kitty helped raise kept in close contact with her. One of these children, R.J. Reynolds, bought Kitty a house and consistently asked her to visit him and his family in Winston-Salem, North Carolina ("The Legacy of Kitty Reynolds Nanny of the Reynolds Children").  
Kitty's family made history in 1883. Two white men were mocking the school that had recently been created for African Americans, and two of Kitty's sons, Burwell and Lee, got into a fight with them. This resulted in Burwell stabbing one of the men and both sons being charged with murder ("The Legacy of Kitty Reynolds Nanny of the Reynolds Children"). A son-in-law of Hardin Reynolds and another attorney defended Kitty's sons in their trial. Despite both being former members of the Confederate Army, the lawyers asked for a third of the jury to be composed of African Americans. The judge refused this suggestion, and after an appeal and many other proceedings, the case made it to the Supreme Court. The court determined that race could not be a deciding aspect of jury eligibility and made the decision called Ex Parte Virginia ("The Legacy of Kitty Reynolds Nanny of the Reynolds Children"). 
Kitty Reynolds' family paved the way for African Americans to have the right to a fair trial. In the anecdotes she is remembered by, it is clear that she was a capable, strong woman who possessed great amounts of courage, love, and forgiveness. She is inspiring, not just as the mother of a family that changed history, but as a formerly enslaved woman who had the resilience to live on despite the many obstacles laid before her. It is of the utmost importance that Kitty's story, along with other untold stories, is shared. However, this does not have to be accomplished through a massive undertaking. Kitty's story exemplifies that small gestures are just as important as large endeavors.
Works Cited
Deffenbaugh, Diane. "For More Than 170 Years, The Reynolds Homestead Has Been the Heart of Patrick County." Virginia Tech, 13 Jun 2022, https://vtx.vt.edu/articles/2022/06/outreach-reynolds-homestead.html. 
"The Legacy of Kitty Reynolds Nanny of the Reynolds Children." Patrick County Chamber of Commerce, http://patrickchamber.com/extra.cfm?eventID=7861. 
"The Reynolds Family." Virginia Tech, https://reynoldshomestead.vt.edu/history/reynolds-family.html.