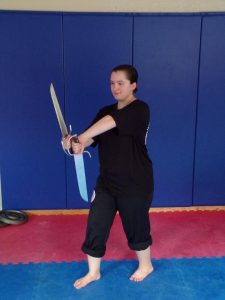 Ayla Gordon, a local martial artist, has traveled to Emeishan, China to compete in the 9th World Kung Fu Championships, August 23-28. A member of Team USA, Gordon will put nearly a lifetime of hard work and training up against the best in the world.
Gordon, now 20 and a Patrick Springs resident who works and trains in Martinsville, began Kung Fu training at the age of three. After a break to explore her interest in dance, she returned to martial arts at age 10. Her father, Kristain Gordon, a Shifu, or teacher of Kung-fu, didn't push her newfound interest but was supportive of her choice.
"I wanted her to want to do it out of her own interest," he said, "because she would develop skill, admiration, and love for it on her own."
Ayla's desire to compete took shape on a trip with her father to Atlantic City, where he was being inducted into the martial arts Hall of Honors. It was on this trip that Ayla saw and met several famous martial artists along with actors and actresses with backgrounds in martial arts.
"A lot of them got their start in competitions," Kristian Gordon said, "so that piqued her interest."
After competing in local events, Ayla said she began to "wonder what would happen if I tried to go up a level. I saw they had Team USA tryouts, and I really wanted to try it."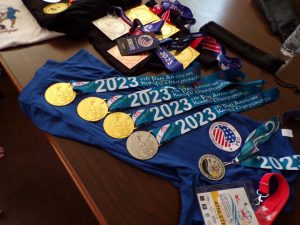 Like so many things, COVID impeded her plans, putting off her Team USA tryouts until November 2022. Once there, she won gold in Bah Cham Dao – a discipline featuring two short swords, and silver in Biu Ji, which shows her mastery of the form. Those medals placed her on Team USA, making her eligible for the 4th Pan American Kung-fu Championships in Unionville, Canada this August.
Before the Pan American Championship was a stop at the national championships where Ayla took home three golds, a silver, and a bronze in her five events.
Her trip to Canada for the Pan American Championships was an eventful one. "It was awful," said Ayla, with a smile.
Accompanied by her father, the trip took two days. There were delays, a four-hour wait in a parking lot, and buses that didn't show up. They ended up making the border crossing on foot at Niagara Falls. They arrived at their hotel at two in the morning, having to be up and on their way to the event venue just three hours later. With precious little sleep, Ayla was fortunate to have only one event that first day.
She took the gold.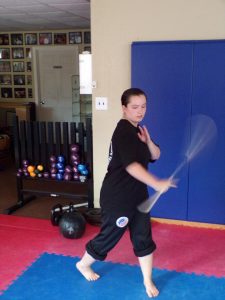 In her four events, she won three golds and a silver. Muk Yan Jong, an event centered on a wooden "dummy," was a last-minute addition for Ayla, and she took gold. Her other golds came in Biu Ji and Bah Cham Dao, with her bronze coming in competition sparring.
In China, Ayla is scheduled to compete in Bah Cham Dao (double swords) and Biu Ji, in which she will do a form that has been passed down for more than 350 years in her primary style, Wing Chun. This form has a lineage going back to IP Man, one of the most influential martial artists of the last hundred years, and one time Shifu of Bruce Lee. 
Kristian Gordon's teaching roots go back to IP Man and is a third-generation Shifu in Wing Chun. One day, Ayla will become a fourth-generation Shifu.
Biu Ji, a simulated combat scenario, has been passed down for hundreds of years. Ayla said the traditional elements she will perform in China, "were put together like that so that they could teach the system and you could practice all the techniques in one routine."
In both events, they will judge her on her stances, footwork, and how clean and crisp her movements are. "You start out with a perfect score, and they deduct for every single mistake," said Ayla. The scoring is similar with the swords but, "you're adding all the different angles of attack."
The judges also look at the competitor's focus during the competition. The other events going on around them make focus tougher at many competitions. Ayla said that losing focus by glancing over at another competitor or reacting to the crowd would cause a deduction.
After China, Ayla's plans include making Team USA again in 2024 and the next World Championships in 2025. The Olympics are another goal.
Kung-fu, while not currently an Olympic sport, is a member sport of the International Olympic Committee. The sport already meets its standard for judging and competitions. Should Kung Fu get the Olympic nod, Alya, as a member of Team USA, would be eligible for the Olympic trials. 
When her competition days are over, she would like to follow in her father's footsteps as a Shifu and pass on her knowledge to others.
In the runup to the Worlds, Ayla has been busy training, but even busier working, many weeks six to seven days to help cover the cost of her trip to China. Even with the busy work schedule, she has found time to train every day. 
To help with the expenses, a GoFundMe page was started for Ayla, at https://gofund.me/3343796b.
With all the hard work put in, Ayla summed up her goals in China in one sentence:
"I want to come home with a world championship title."
1
2
3