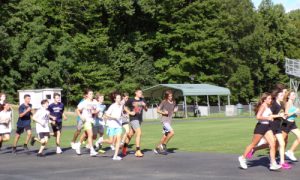 The Patrick County Cougar Cross Country team got their season off to a fantastic start. Their opening meet, held at Anglers Park in Danville on August 23, showed the depth and strength of their boys' and girls' teams.
The boys came away from the meet with the team victory, strengthened by four Cougars finishing in the top ten, and six in the top twenty. The Cougars' top five finishers counted toward the team point total, and their win.
Leading the way was Hunter Martin with a runner-up finish, just thirteen seconds behind the winner, Emerson Bryant, from Amherst County. Right behind Martin in third was Noah Hiatt with Fisher Martin claiming fourth.
The other PCHS runners finishing in the top twenty were Greely Terry in tenth, William Overby in fourteenth, Xavier Torres-Seda in nineteenth.
The Cougar boys finished with a total time of 1:37:31, topping second place Galileo by over six minutes.
In the girl's race, PCHC placed all four varsity runners in the top eight, led by Sadie Martin's second place finish. Callie Wood finished fourth, with Mackenzie Williams in fifth, and Ellianna Montgomery in eighth. In a race where only eighteen runners beat the thirty-minute mark, all four Cougars were faster than twenty-seven minutes.
Next up for the Cougars is a meet on August 31 at the Smith River Sports Complex in Axton, with the varsity races starting at 5 p.m.
Boy's results
Hunter Martin – 18:30.02
Noah Hiatt – 18:51.50
Fisher Martin – 18:54.92
Greely Terry – 20:30.01
William Overby – 20:43.64
Xavier Torres-Seda – 21:39.59
Brett Foley – 22:06.57
Ryder Richardson – 28:38.73
Girl's results
Sadie Martin – 21:04.32
Callie Wood – 25:30.24
Mackenzie Williams – 25:41.44
Ellianna Montgomery – 26:41.52