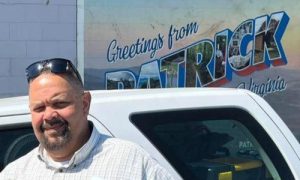 Hello Patrick,
There are many exciting activities taking place this Labor Day weekend. To see all the events happening, please visit our website at visitpatrickcounty.org. I would like to highlight two important events. Dominion Valley Park will have gospel music on Friday and Saturday at 5:30 p.m. and Sunday morning worship at 10:30 a.m. You can find more information on their Facebook page, Dominion Valley Park. Additionally, tickets are still available for Front Porch Fest 14, which will take place at Spirithaven Farm from August 31st to September 3rd. 
Please keep in mind the various flea markets and yard sales happening throughout the region. Our unique communities will be bustling with festivals, gatherings, and performances over the next few weeks. If you are unable to find something to do, then you probably don't want to do anything at all! By the way, we have a wall in the visitor's center dedicated to local events, so feel free to drop by and check it out. Lastly, I hope you all have a fantastic Labor Day weekend and get to spend time with your loved ones. Remember, "Come Get Lost and Find Yourself Here." 
I'll be in touch soon. 
Best regards, James Houchins, 
Director of Tourism 
jhouchins@co.patrick.va.us