Piedmont Community Services (PCS) held a Community Coalition meeting to bring residents interested in creating a drug-free Patrick County together on May 9.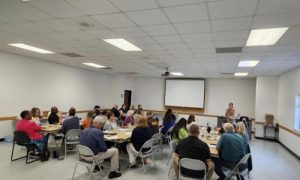 Director of Prevention Services Regina Clark said this first meeting was to see which local stakeholders would be interested in joining the coalition and to introduce it to the community. 
"From that, we hope to get a little more organized in the sense of establishing a mission and vision statement, inviting additional stakeholders to the table who need to be there, and kind of mobilizing the community," she said.
In that process, Clark said the coalition will figure out what the identified needs are, how to come up with strategies to address those needs, and to strengthen the work being done in Patrick County.
Clark said there have been some smaller groups, individuals, and partners that have been working individually on these things.
"Now, we're actually broadening the scope of what we're doing, and we're following the Drug-Free Community Support Model, which basically has representation from 12 different community sectors. So, rather than maybe just having a small group focused on one thing, we now have multiple partners, we're all bringing our collective knowledge to the table, and it really makes for a strong coalition," she said.
The community coalition was created to address the opioid and fentanyl crisis and overdoses. It is expanding on Engaging Patrick County's mission.
"With prevention, we're always striving to prevent people from ever needing to pursue services and treatment and stuff," she said.
Clark said the idea is to protect people and build up protective factors in the community and individual families to help youth to never start using substances. 
"We have some additional funds that we're able to support staff doing this, and so the next step is going to be expanding prevention services," she said.
The Henry County version is the Drug-Free Martinsville-Henry County, and Fresh Prevention Coalition is in Franklin County.
"Every community is different, and that's one thing that we really wanted to be intentional about is how do we support youth and families in Patrick County. You know, what does that look like, what are the needs because the needs in Patrick County may be very different than what's in Henry County," she said.
Clark said this is why PCS wants local buy-in to guide the strategies and initiatives of the coalition. 
She added the organization also wants to create a Communities Helping Improve Local Lives (CHILL) youth taskforce, or coalition. 
"It's made up of high-school aged students committed to making healthy, positive choices, and being drug-free and being advocates for normalizing living a healthy, drug-free life. The students really guide what kind of things they do and what kind of projects they work on in the community or in the schools," she said.
There is currently a CHILL coalition in Franklin and Henry counties.
Clark said she believes the community coalition will be established as a monthly, reoccurring meeting. She does not know when the coalition will next meet. 
Those interested in joining may contact Brooke Roberson, Community Organizer for PCS at (276) 692-6038, or via email at broberson@piedmontcsb.org.
For more information, go to www.piedmontcsb.wixsite.com.