As president of Patrick & Henry Community College, I am delighted to provide our community with a year-end report highlighting a very successful academic year for our institution.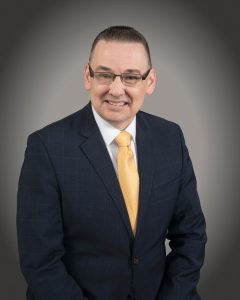 We are so pleased to see a post-Covid enrollment boost this year with a 4% increase in academic enrollment over the previous year and a 40% increase (as of May 15, 2023) in workforce/short-term credential training enrollment. We were also thrilled to enroll our largest SEED cohort, which is 26% higher than the previous year. We remain extremely grateful to the Harvest Foundation for their investment into the economic future of our region and for partnering with P&HCC to ensure students obtain the skills they need to become employed in our community. 
The college also had a strong year bringing on new programs and initiatives. These include a new "Fab Lab" at our Patrick County site, a new CDL program, a new powerline program, and a new C.N.A. pathway for dual enrollment students in Martinsville and Henry County. Additionally, the college opened the second building of our Manufacturing, Engineering, and Technology (the MET) Complex, a 103,000 square foot facility that is dedicated to good paying jobs in our service region. The new building triples our welding capacity, and a grand opening is slated for early fall. 
The success of the college has been noticed across the community, Commonwealth of Virginia, and country. P&HCC's Advanced Manufacturing program won the first Rural Community College Alliance (RCCA) Innovation and Access Award for its partnership with Festo Didactic and the National Coalition of Certification Centers (NC3). Additionally, Patrick & Henry was heavily featured in the Aspen Institute publication entitled Rural Community College Excellence: A Guide to Delivering Strong Opportunity for Students and Communities. It was also recently announced that P&HCC has the highest dual enrollment conversion rate in the state, which reflects the percentage of dual enrollment students who enroll at the college after high school. 
We are also extremely proud of the accomplishments of our student athletes. P&HCC boasts the NJCAA Region 10 soccer champions as well as the number one cross-country runner in the region. P&HCC's outdoor track and field teams had many athletes qualify for nationals, which is a first for our program.  Additionally, in only the second year of existence, our wrestling team sent seven students to the national tournament, and in its first year of existence, our women's tennis team sent three students to nationals.  More than half of our 205 student-athletes posted GPAs greater than 3.0, and the entire student-athlete roster turned in an average GPA of 3.1, which exceeds the average GPA of the rest of the student body. Impressively, 33 of our athletes had perfect 4.0 GPAs. 
As always, the highlight of the year is celebrating the accomplishments of our students at our annual graduation ceremony. For many, they are not simply graduating; they are walking into a world of financial stability for themselves and their families. To that end, we are thrilled to announce that 488 students earned 586 academic credentials this year with 206 of these students participating in our graduation ceremony on Saturday, May 13. These numbers mean that more students are getting the education, skills, and training they need to acquire good paying jobs in the communities served by P&HCC.
The economic renaissance in our region is very real, and for 61 years, P&HCC has been dedicated to providing our students with the knowledge and skills they need to be successful employees and employers. We are more committed now than ever and look forward to serving you as you make your own dreams a reality.
It is indeed the honor of my lifetime to serve as the president of Patrick & Henry Community College.