The Patrick County Alzheimer's Group, LLC is looking for performers for its Patrick County's Got Talent, a local talent show that will be held on Saturday, April 22 at 7 p.m.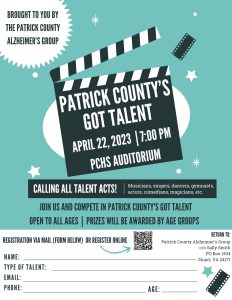 The event will be held at the Patrick County High School (PCHS) auditorium and has a $5 entrance fee.
In addition to being a fundraiser for the Alzheimer's Group, member Joanne Hill said it's an opportunity to demonstrate the multiple and various talents we have in the community. Anyone
"Anyone that wants to be in it can be in it. You don't have to audition, and you don't have to pay a fee to be in it, you just register and sign up," she said.
The group is looking for local musicians, singers, dancers, gymnasts, actors, comedians, magicians, and other talents.
There are about a dozen acts currently registered to perform, primarily musical acts. 
"We have Charles Bowman, he's gospel and he's from Ararat, and he does guitar with vocals. Karen Wood from Patrick Springs will probably be playing a piano solo," she said.
However, she said the show could be cancelled if more talent doesn't register for the show.
"So far, we don't have enough acts. We're looking to have about 20 acts," she said. 
Hill said the show is open to all ages with three age groups: 12 and under, 12-18 years old, and 18 and over. Cash prizes will be awarded to the best performer in each age group.
To register, fill out the form at the bottom of the event's flyer and send it to the Alzheimer's Office. 
The deadline to register is Wednesday, April 19.
For more information, go to Facebook.com/ PatrickCountyAlzheimer'sGroupLLC, or call Sally Smith at (276) 229-1724.