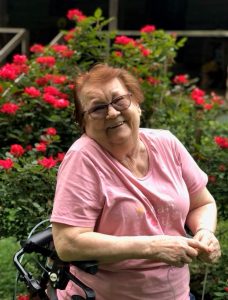 Mrs. Margaret Marie Hill Cassell, age 87 of Stuart, Virginia went to be with the Lord and Savior on Tuesday, April 11, 2023, at Northern Hospital in Mount Airy, North Carolina. She was born in Patrick County on May 7, 1935, to the late Frank and Minnie Nunn Hill. In addition to her parents, she was preceded in death by her husband, Roy "Junior" Larkin Cassell; four sisters, Glister Gray, Juanita Montgomery, Thelma Vangol, and Alma Hill; and three brothers, Mack Hill, Tom Hill, and Doc Hill.  Margaret attended The Gathering Place at Critz. She enjoyed watching birds, western movies, and wrestling. She was an outgoing person who loved talking to people, she never met a stranger and was an all-around kind, loving person. To her family, she was a devoted mother, loving wife, and "Crazy Grandma."
Mrs. Cassell is survived by her caring daughter, Wanda Layman and husband, Doug of Stuart; two granddaughters, April Hazelwood and husband, Austin, and Amanda Holt; three great-grandchildren, Brianna Holt, Ashlyn Holt, and Tyler Holt; and two great-great-granddaughters, Amelia and Layla Ferguson; one brother, Herbert Hill; several nieces and nephews; and her beloved dog, Pudgie.
A funeral service for Mrs. Cassell will be held on Saturday, April 15, 2023, at 11:00 a.m. at Moody Funeral Home in Stuart with Pastors Donnie Gray and Roger Moore officiating. Burial will immediately follow in Old Center Primitive Baptist Church Cemetery. The family will receive friends from 10:30 until the time of the service at the funeral home on Saturday morning.  Flowers will be accepted, or memorial donations may be made to The Gathering Place at Critz, P.O. 177, Critz, VA 24082. Online condolences may be made by visiting www.moodyfuneralservices.com.