Lace up those sneakers and join the fun on Saturday October 21, in Downtown Stuart for the annual Apple Dumpling Festival 5K.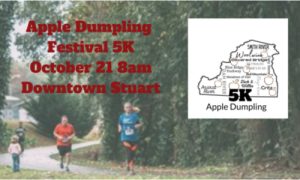 The Patrick County Chamber of Commerce, in partnership with the Dan River Basin Association, is presenting this annual fundraiser. The 5K race is run along the Mayo River Rail Trail before the Town of Stuart's Apple Dumpling Festival. 
One of the most scenic and flat 5K's in Patrick County, pre-registered runners receive a guaranteed T-shirt. All runners receive a finisher medal, marked course, chance for awards, and a great time. Proceeds benefit the Dan River basin Association's trail development in Patrick County. 
The 22nd annual Apple Dumpling Festival will be held from 10 a.m. to 4 p.m. For more information and to register for the 5K visit www.patrickchamber.com or call (276) 694-6012.