Reverend Richard Glenn Elgin died at the age of 91 on Sunday, June 18, 2023.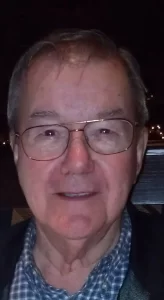 He was the son of the late Ora Roberson Elgin and Buren Alexander Elgin. In addition to his parents, he was preceded in death by his loving wife Betty Jo Ann Phillips Elgin, his brothers James William "Bill" Elgin and Randolph Elgin, his sister Patricia Elgin Rorrer and his dear friend Oma Lea Merricks.
He is survived by his daughter Karen Elgin, son Michael Elgin (Carlan), grandson Zachary Elgin and his mother Jennifer Radner Elgin.  He is also survived by his loving sisters Betty Jane Holt, June Carol Gunter (Marvin) and Sandra Richardson as well as many caring family members and friends.
Glenn worked in Marketing and Communications at General Electric and retired after 29 years. He was an ordained minister with the Church of the Brethren and a member of the Lynchburg Church of the Brethren since 1960. He served many congregations during his tenure to include the Smith River Church of the Brethren where his father served for many years. He was an avid tennis player and enjoyed fishing. He played golf and in his later years enjoyed many games of pool. Glenn loved to make music and could play the guitar and mandolin while singing the songs he admired and many he had written himself.
When people speak about Glenn, they always say "he is so nice". Blessings to the nicest man many have ever met and may his example and faith remind us to be kind to one another.
A funeral service was held on Friday, June 23, 2023, at 11a.m. at Tharp Funeral Home, Lynchburg, with his nephew Reverend Richard A. Rorrer officiating.
Memorials may be made to the Lynchburg Church of the Brethren, Smith River Church of the Brethren or the charity of your choice.
Tharp Funeral Home & Crematory, Lynchburg, is assisting the family. To send condolences, please visit tharpfuneralhome.com.