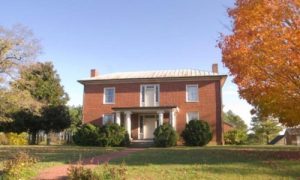 Virginia Tech's Reynolds Homestead in Critz, VA has opened registration for its fall session of College for Older Adults. Classes begin September 18 and run through October 27. This six-week session of classes is presented through the generous support of The Landmark Center. The variety of opportunities this session includes hikes, history classes, author series, arts and crafts, movement classes, and fun day trips. The full schedule of classes and activities is posted on the Reynolds Homestead website: www.reynoldshomestead.vt.edu.
College for Older adults is a semi-annual program lasting six weeks in both the spring and fall. The sessions offer cultural, intellectual, social, and fitness opportunities for adults ages 50 and older. College for Older Adults is perfect for: lifelong learners, those curious about the world around them, people interested in trying new things or making new connections, and anyone who enjoys planned outings and activities.
The membership fee for COA is $60 and includes tuition for all weekly classes along with specialty one-time offerings. Some classes such as art/crafts classes, make and takes, and field trips may have additional supply or transportation fees. A hiking only track is available for $30 and includes six guided hikes. Payments may be made online by credit or debit card, or via check made payable to Treasurer of Virginia Tech. Online and printable registration options can be accessed from Reynolds Homestead's Facebook page and website. Paper catalogs are available at Reynolds Homestead, the Patrick County Chamber of Commerce and Blue Ridge Regional Library. 
For more information contact Melanie Gilbert, Assistant manager for Community Engagement Programs at mtgilbert68@vt.edu or by calling 276-694-7181 ex.22.