During his four-day swing through Southside and Southwest Virginia, Sen. Mark Warner, D-Alexandria, stopped by Mabry Mill and the Martinsville Speedway to meet residents and community leaders.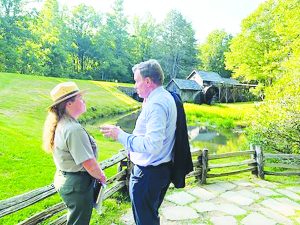 At his stop at Mabry Mill, Warner offered an update on the implementation of the Great American Outdoors Act and its impact on the Blue Ridge Parkway. 
"We know how important the parkway is, not just to most of us here local at least, or Patrick or Floyd County, but it's over a billion dollars in economic impact that I don't think I fully realized," Warner said, adding visitors entering his front office are greeted by a six-foot-tall picture of the mill.
Warner said the Blue Ridge Parkway is visited by more Americans than Yosemite National Park, the Grand Canyon, the Grand Teton National Park, and Yellowstone National Park combined.
He also acknowledged the work of Del. Wren Williams, R-Stuart, at the state level.
"I'm big on bipartisan, but you think it's hard to get Republicans and Democrats to work together? Getting this funding, figuring out the battle between the park people, and the land and water conservation people, and the Bureau of Public Land people, that was real politics," he said, as many in the crowd chuckled. 
When the Restore Our Parks and Public Lands Act was passed, Warner said there was about an $11 billion backlog on national park maintenance for roads and historic sites. The backlog went up to $13 billion.
Sens. Lamar Alexander, R-TN, Rob Portman R-OH, Angus King, I-ME, and Warner worked on the Act. 
"It took us a couple of years. It was always broad-based support, but it was a question of are we just going to do the parks, or are we going to end up doing a Land and Water Conservation Fund – a permanent set of funding," he said.
Warner said the sausage-making of how the bill got passed included blood, sweat, and toil. 
"We got a five-year stream. We're not going to get all the backlog, because obviously each year the backlog goes up, but we're going to get about $6.5 billion, and it was kind of the art of compromise," he said. "The art of sausage-making."
The infrastructure bill, which finally has enough money for every community to have full, high-speed affordable broadband, was also a topic of discussion.
"I know there's sometimes a challenge to get the fiber through the park service. I think we may work on a plan on how we can speed that up because my belief is Virginia is further along than almost any state," Warner said. "We have $700,000 from the previous governor and we just got $1.4 billion" for the projects, he said.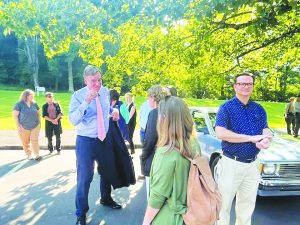 Warner said if there isn't broadband to every community at 98 percent penetration by 2025, it's because someone screwed up along the way on execution, not due to a lack of funding. 
"I want to make sure that all of the Board of Supervisor members who are here can take all of the appropriate kudos when they can make sure that everybody in their community is connected," he said.
After the COVID-19 pandemic, Warner said he believes everyone realized that the idea that one must go to the Burger King parking lot to get a signal or broadband is not a practical long-term solution.
He said he was told during a conversation with Blue Ridge Parkway Superintendent Tracy Swartout that even getting people to come work at the park service is difficult.
"Something that I remember when I was a kid was one of the most competitive jobs around," Warner said. "Hopefully, as we do all this restoration, we'll be able to encourage more folks to join us. This is a great career, and it's another version of public service."
Swartout said the Blue Ridge Parkway was created to spur economic development in the Southern Appalachian communities it serves.
"We have more than 300 utility crossings on the parkway right now and in many cases, these are old crossings that are now being updated with fiber and new technology. We're really looking forward to being a part of getting communities connected because that's really part of what the park service mission was anyway," she said.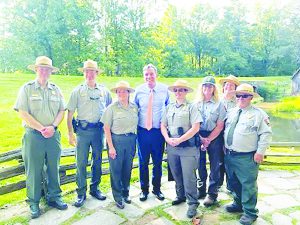 With the money the state has in the Virginia Telecommunication Initiative (VATI) program, Warner said there should be enough funds for about 98 percent of households to have broadband access.
"There'll always be someone that lives so far down the road they may not get to in the next two years. What I worry about is if other rural counties are getting big grants and" other counties aren't, "I'm happy to meet with them because the money's there," he said.
Warner said once the fiber wires are there, it becomes cheaper to put in a cell phone tower.
"We need fiber. There will be some spots where 5G coverage will be an answer, but the main thing needs to be fiber," he said.
At his stop in Martinsville, Warner said the Martinsville Speedway generates a ton of resources for the community, including $170 million, 3,000 jobs, and 350,000 sports fans coming to the community.
Warner said when he was governor, the vocational education initiative started at the racetrack.
"I think it was with Hermie Sadler, we started the Race to the GED program. We advertised it all over Virginia, and what we said, 'any kid in Virginia, we're not going to lower our standards, but you've got to have a career path and it doesn't have to be college,'" he said.
The program guaranteed an industry certification, and if one couldn't get enough of that training in high school, it'd give up to a year of free community college to finish getting that industry certification, he said.
"It would pay itself back in three years. We went from 6,000 kids to 11,000 kids on that effort on getting industry certifications," he said.
The program was not continued by his successors, but Warner said he believes the program should be brought back before the state starts thinking about free four-year college. 
Old school thinking about education needs to be changed like schools being compensated based on "butts in a seat on a semester-wide basis," he said.
"If you get a Pell grant, you ought to be able to use your Pell grant for an industry certification, not simply go to college," Warner said.
For more than 40 years, Warner said the country's talked about the need to have improvements in infrastructure. 
"A little over a year ago, we passed the biggest infrastructure bill since President Eisenhower invested" in the interstate, he said, adding this means additional resources for roads, bridges, airports, water and sewer, and most importantly broadband.
"We've got to get better connected. It shouldn't matter where you live in the twenty-first century, you ought to be able to do your job anywhere, and I think post-COVID we also realized that highspeed affordable broadband is not just nice to have, it's an absolutely essential economic requirement," he said.
Warner said having affordable broadband doesn't guarantee a community will be successful, but not having it means there's really no chance to attract better jobs and keep young people in the area.