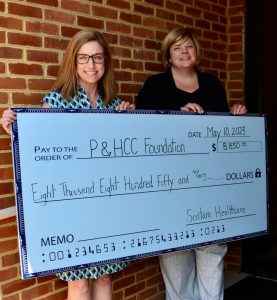 In partnership with Sentara Healthcare's Sentara Cares program, Virginia Foundation for Community College Education (VFCCE) has awarded Patrick & Henry Community College Foundation $8,850 to provide emergency assistance grants to healthcare students to overcome financial hardships and excel in college. Students must be enrolled in a healthcare or healthcare-related undergraduate or professional degree or certificate or credential program and have demonstrated financial need as determined by the Office of Financial Aid. 
"In addition to the usual college tuition and fees, most healthcare programs require additional expenses for uniforms, physical examinations and required immunizations, drug screens, criminal background checks, and specific textbooks and resources. Fees for these items can be very costly," shared Amy Webster, P&HCC Director of Nursing and Allied Health.
Sentara Cares funding will support program placed students in the associate's degree nursing program, practical nursing program, Paramedic and EMS related pathways, physical therapist assisting, and workforce medical certification training at P&HCC. 
"We are pleased to be able to direct these funds to support the expensive textbook requirements for healthcare students. Healthcare has one of the most expensive textbook requirements of any program we have and these funds will help ensure that students are able to continue their work to fill critical positions in our community," said P&HCC Foundation Executive Director Tiffani Underwood.