Greetings, Patrick: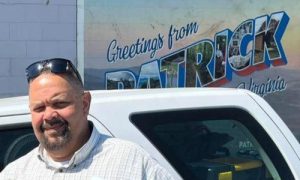 Wow! Time has flown by. We wrapped up a week of celebration at the visitors center for National Vacation and Tourism Week. Several people stopped in and "spun the wheel." Sue Kolljeski donated a cake and shared it with those who stopped by. Thanks to all that came in and won some prizes. 
Just in case you missed it. Tourism received a grant from the Virginia Tourism Cooperation in the amount of $5,500. We are continuing our efforts to establish a Moonshine Heritage Trail in cooperation with Floyd and Franklin County tourism agencies. The West Piedmont Commission is assisting us, and we have sent out several Requests for Proposals for the 1st phase, which is our branding. More to come on this. 
Festival Season is in full swing, and we have had the opportunity to showcase Patrick County at the Pilot Mountain Outdoor Expo and Merlefest, which over 500 people stopped by the booth at both events.
We are getting the word, and a big thank you to all our lodging entities spread throughout our county. They house our tourists during their overnight stays and are vital to the tourist industry. 
See us at the Visitor Center and get information on things you and our tourists can do for fun and adventure. Also, remember to tell them, "Come Get Lost and Find Yourself Here." 
Let's 'talk' again next week! 
James Houchins, 
Director of Tourism