The sudden loss of childcare and lack of options has created a crisis for Amanda Hylton.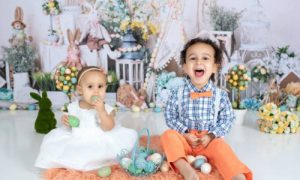 A Patrick County native and a single mother, Hylton has lived in more populated areas of Virginia like Hampton Roads. She returned to the Stuart area because her older children wanted to attend Patrick County High School. Her eldest daughter, Maddy, will graduate later this week. Her eldest son, Caleb, is a previous PCHS graduate.
But Hylton's younger children, Keziah and Khalani, may not have that opportunity.
Hylton is a special education teacher in the Henry County School division. She accepted a job in that division because she thought there would be more children options available. 
Her younger children had both been attending daycare in Henry County since they were 3 months old, Hylton said. Keziah is now 2 and a half years old, and Khalani just celebrated her first birthday.
Both have food allergies which require that each have an EpiPen to treat serious allergic reactions. 
Recently, Hylton said she received an email from the childcare provider, noting the childcare agency's handbook stated medication could not be administered to youngsters in the facility. Upon learning that, Hylton said she emailed the director of the facility to determine whether the EpiPen and Benadryl "fell under that category.
"I was told, 'Yes,'" Hylton said, adding that she also learned the childcare providers working in the facility lacked Medication Administration Training (MAT) certification. As a result, the facility was not allowed to store medication or administer it – even in a life-threatening situation.
"I said, 'You never told me that'" when Hylton registered her children to attend or gave the facility a copy of the children's Food Allergy Care Plan.
She explained the plan is a document created by an allergy specialist for those at risk of suffering anaphylaxis, a life-threatening allergic reaction that typically occurs shortly after exposure to allergic substances.
MAT certification is not expensive, nor is it required for every worker in a facility, she said, adding she does not know why caregivers aren't required to be certified. 
"It's kind of like getting CPR certified," she said. 
Regardless, last week "basically, I was left with the option of dropping my children off without their EpiPen and Benadryl or I don't go to work," Hylton said.
She chose the second option and spent the entire next day calling various childcare centers in and around Henry and Patrick counties, expanding her search to those in Eden, N.C.
She also talked to the Human Resources Department at work and learned that she could not file the absence under the Family Medical Leave Act (FMLA), therefore "my job is not protected.
"With the lack of daycare in the area, what am I supposed to do," she asked rhetorically. "Do I lose my job? I've already not been able to pay my bills because they've been sick" and the time missed from work is unpaid.
"The kids have been sick a lot this year, and I have no" paid time off left to cover any absences over the next few weeks, Hylton said, adding that meant she would not be paid for any time missed from work.
"I've used my credit card already to pay for gas, expenses, and food, and that was before this," she said. "What do I do? It's like, how do other people work?"
Hylton said she had even considered staying home and offering childcare to other parents, "but I need insurance and retirement. I'm literally at a loss of what I need to do."
As a member of a food allergy support group, Hylton said she sought advice from other members, but learned there were no options she hadn't already considered. 
Sadly, "my kids are the ones who are going to suffer," Hylton said, adding that she had signed up to teach a summer school class, but had to cancel after losing childcare. Now, she's hoping she can finish the remainder of the teaching days on her contract for the year.
"I literally don't know what people do," Hylton said. "How do you not work and afford to live because I work, and I can't afford to live. I don't know what to do."