The Patrick County Patriots and the Woolwine Volunteer Fire Department are combining forces to raise funds for a community servant who is now in need, with several fundraising events scheduled to be held on Saturday, June 24.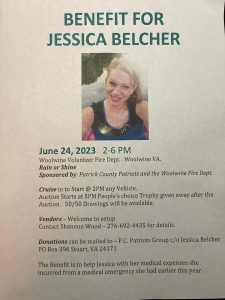 Events include something for everyone, with a Motorcycle Ride, Cruise-In, followed by live music and an auction. Concessions will be offered, along with door prizes, according to Sammy Hughes, president of the Patriots.
Registration for a Benefit Ride for Jessica Belcher begins at noon in the Orchard View Market parking lot on Virginia 8 North in Woolwine, Hughes said of the ride that includes a 50/50 drawing and a trophy. 
All vehicles are welcome, Hughes said, and the registration fee is $20 per bike or vehicle. Kickstands go up at 1 p.m., and the ride is expected to conclude at the Woolwine Fire Department.
For more information about the ride, text Jason Turner at (276) 692-7842.
A Cruise-In will be held from 2 to 6 p.m. at the Woolwine Volunteer Fire Department. An auction starts at 5 p.m., with the giveaway of a People's Choice trophy to follow. Music will be provided by Jordan Morrison, Mike Pendleton, and Marci Horne.
Hughes said 50/50 drawings will be held during the event that will include a variety of vendors on site and concessions that include hot dogs by Jesse Jones and barbeque by Boyd's Restaurant.
Shannon Wood said current vendors include Scentsy and Mary Kay cosmetics. Vendors can set up for free, and those interested should contact Wood at (276) 692-4435.
"Really, they can contact me anytime. There should be plenty of space, so even up to the night before we'll definitely accommodate whatever we can," said Wood.
Hughes said, "The response has been phenomenal," with door prizes collected and some vendors registered. In addition to vendors, more auction items are being sought, and the group is considering adding a Bake Sale to the roster of events "if folks want to donate a pie or cake." 
To donate an item or for more information, contact Hughes at (276) 692-6224, Jamie Hall at (276) 340-8454, or any group member.
Hughes said the group is also planning a Catfish Tournament to benefit Belcher on June 10. The tournament will be held starting at 4 p.m. at the #1 Boat Ramp at Philpott Lake, Hughes said.
"You do not have to have a boat to participate," he said.
The entry fee is $40, with the weigh-in scheduled for midnight, also at the #1 Boat Ramp.
Prizes include a payout for the biggest catfish and a 50/50 payout.
For more information or to register for the fishing tournament, call Jonathan Scott at (276) 229-1700.
Proceeds from all of the events are earmarked to help Belcher with her medical expenses, Hughes said.
Belcher is battling some serious health issues that have required a flight for life-saving treatment as well as a stay in the ICU (Intensive Care Unit), according to Wood, who noted that Belcher doesn't have health insurance.
Wood said Belcher stayed in the ICU for at least a week earlier this year, and doctors discovered she had extremely high blood pressure and some other health issues.
"She's not fully recovered from it," Wood said, adding that Belcher has not been able to return to work as a hairstylist.
Belcher is a big help in the community, and previously served as the treasurer of the Parent Teacher Organization (PTO) at Woolwine Elementary School, Wood said, adding that Belcher will have two children at Patrick County High School (PCHS) next year.
"She donated her time before she got sick, and she would actually go to Heritage Hall and give haircuts and stuff to all of the people down there. She never charged them," Wood said of Belcher.
Hughes also noted that Belcher helped with students a community Back-to-School event and Christmas project.
Anyone wishing to make a financial donation can send checks or money to P.O. Box 396 Stuart, VA 24171. Those who don't feel comfortable sending donations through the mail may contact Wood, who is willing to come pick it up in person.
"We're very appreciative of anything," she said.