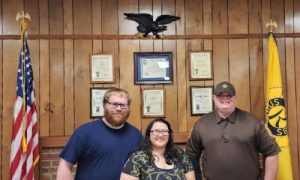 The Ararat Community Crime Watch was held Thursday, May 25, at 7 p.m. in the Ararat Ruritan Building, 4711 Ararat Highway, Ararat. The deputy host filling in for Deputy Martin was Eric Sain of the Patrick County Sheriff's Office, he opened the meeting and introduced the guest speaker, Tori Boone (and her husband Cody Boone), from the Patrick County Department of Social Services, 106 Rucker Street, Stuart. She spoke about May being Older Americans Month, the theme this year is Aging Unbound. She handed out information concerning her area, Adults Protective Services/Adults Services 60+ or 18-59 disabled services offered on abuse, neglect, self-neglect, and financial exploitation, including scams. 
Other handouts were distributed – about getting help with electric/cooling (starting June 15), referrals to
food pantries, hot meals, home-delivered meals, and working with other agencies to make sure the client gets the best help possible. 
Through referrals, the agency has helped people with home repairs, wheelchair ramps, leaky roofs,
well/septic problems, etc. It can also help with getting walkers/wheelchairs, potty chairs, etc. 
Before ending, Deputy Sain said the Sheriff's Department works close and often with Social Servies, and gave more time to questions and answers concerning our area, or anything we felt needed to be discussed.  
Scams and robocalls were the most spoken about.