The Lady Cougars had hot bats in Stuart, on Thursday, March 16.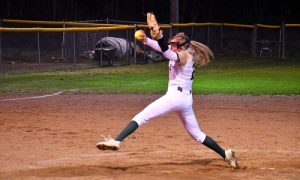 Patrick County put 10 runs on the board in the 1st inning on their way to a 12-2 win over Floyd County. McKenzie Holt got the start for PC, striking out 9 and giving up only 2 runs in the win.  Holt also had 2 hits with 3 RBIs and a triple. Lauren Fulcher was 3 for 3 with 5 RBIs and a home run. Madison Greer and Lilly Hazelwood had multiple hits and Hazelwood added a home run. 
On Friday, March 17, the Lady Cougars hosted Gretna, getting a 10-0 win. Journey Moore had the win from the circle, striking out 6 and giving up 1 hit. Samantha Harris had 2 home runs in the game. Mckenzie Holt, Journey Moore, and Alexis Knight had 2 hits each in the win.