Thomas D. "Tom" Perry will host walking tours of the J. E. B. Stuart Birthplace, the Laurel Hill Farm, on November 4 at 11 a.m. and 1 p.m. The event is a fundraiser for the Perry Family Scholarship, but it is free to the public. Donations will be accepted.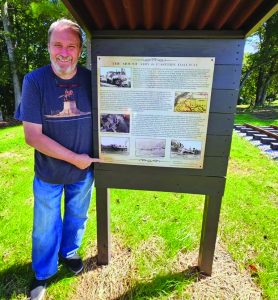 Perry encourages participants to bring their children and grandchildren to learn about this historic property in Ararat, located at 1091 Ararat Highway. The rain date will be Sunday, November 5, at 2 p.m. 
The tour will include all the aspects of the property on the Virginia and National Register of Historic Places. The tour will consist of Native American history, the new Dinky Railroad exhibit, the American Revolution, and the grave of William Letcher, J. E. B. Stuart's great-grandfather, who was killed at Laurel Hill during the American Revolution. He is buried in the oldest marked grave in Patrick County.
The many histories of Laurel Hill will include the slave cemetery exploring the African American history from 1780 through 1859, the Antebellum farm life at Stuart's Birthplace, including discussion of Archibald and Elizabeth Letcher Pannill Stuart, their home and kitchen sites, and the cemetery that includes the siblings of General Stuart.
The tour will discuss Major General James Ewell Brown "Jeb" Stuart, who grew up on the farm before going to Wythe and Pulaski counties for education, Emory and Henry College, and the United States Military Academy at West Point, New York. Stuart served in the First United States Cavalry, mainly in the Kansas Territory, before resigning to rise in rank as Major General, commanding all of Robert E. Lee's cavalry in the Army of Northern Virginia during the Civil War Between the States.
Perry started J. E. B. Stuart in 1990 and led the fundraising efforts to preserve the seventy-five acres where J. E. B. Stuart was born on February 6, 1833. Perry has written five books on Stuart, including A Portrait of J. E. B. Stuart, released earlier this year, exploring the controversies surrounding Stuart, including the portrait of Stuart taken down in a Patrick County Courtroom, the Fairfax County High School that changed its name from Stuart to Justice High School and the taking down of Stuart's statue on Monument Avenue in Richmond, Virginia.
Perry started the Perry Family Scholarship after the death of his parents in 2021 and has given seven scholarships to Patrick County High School seniors who write a 1,000-word essay on the historical topic of their choosing. 
Interested parties may contact Perry at freestateofpatrick@yahoo.com or (276) 692-5300.