Congratulations to neighbors Wayne & Hazel Clark and Kevin & Christie Yates in the Critz community of Patrick County.  They were the winners of the 2023 Patrick County Farm Bureau Hay Bale Decorating Contest and received a Fall Prize Package. They all worked together to put the display together. This was a result of neighbors coming together to celebrate the long history of agriculture in their community.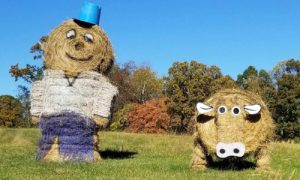 According to Sandra W. Heath, volunteer Board member of Patrick County Farm Bureau, the contest is designed to showcase and highlight agriculture across Patrick County and the Commonwealth, engage local communities, and spark conversations about the food we eat and where it begins.  Patrick County Farm Bureau appreciates all the entries, and the committee would like to thank everyone who entered the local contest.  All entries submitted will be entered in the Statewide Contest.
Agriculture is Virginia's largest private industry by far. The industry has an economic impact of $82.3 billion annually.  The industries of agriculture and forestry together have a total economic impact of $105 billion.
Patrick County Farm Bureau invites you to join a growing membership and be a Virginia Farm Bureau member. It is a simple yet powerful way to put your support squarely behind the farms that produce your family's food. When you join the Virginia Farm Bureau, your annual membership is used for a wide variety of programs, education tools and events that help agriculture prosper.  Your annual membership to Virginia Farm Bureau directly supports farmers in your community and throughout Virginia. As a member, you'll also get access to valuable discounts and member services from leading manufacturers and retailers.  Contact Betsy Conner at Patrick County Farm Bureau at 276-694-7108 for more information. (Photo by Terri Clark Collins. Information submitted by the Patrick County Farm Bureau Board of Directors.)