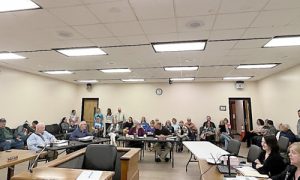 The Patrick County Board of Supervisors heard requests for additional park funds at its March 27 meeting from Stuart Parks and Recreation Association member Amy Corns,
The pool at DeHart Park has been a break-even and self-sustaining pool for more than 40 years, Corns said.
"In 2021, we ended nearly $1,000 in the red, but in 2022 we ended close to positive $3,000. It just depends on the year whether or not we break even or we end in the negative. There are many factors with the weather, how many days we get in, and such," she said.
To pay the Virginia minimum wage of $12 an hour, and to help with increasing chemical costs, Corns estimates it will cost an additional $15,000 to $20,000 of the association's annual budget.
Corns said the association requested adding the pool to the annual budget as a line item in the amount of $15,000. 
The association recently asked for and received $2,500 and reimbursement of its annual water and sewer bills from the Stuart Town Council. 
"Our hope is that we, the county, the town, and the park can all work together for the common goal of supporting our local pool, which in turn supports our county and town businesses as well as tourism by bringing in people from other places who visit our park and our pool," she said.
Corns said money from the county would be specifically earmarked to cover chemical costs, repairs, maintenance, and utilities. 
The association recently placed chemical orders in preparation of the 2023 summer season. 
"Muriatic acid is up $30 a drum, chlorine is up $90 a drum, and stabilizer is up $200 for every 100 pounds. We estimate that this is going to add on at least another $1,000 bill to our already high chemical bill this year," she said.
Corns said she researched and contacted every recreation department with a public pool within a 75-mile radius of Stuart, and found DeHart Park is the only pool that is not supported financially by the local government.
She said the DeHart Park pool is also the most expensive, with an entry fee of $7 per adult and $5 per child.
"My hope is that together we can work towards a common goal of balancing the budget for our local pool so that we can continue to operate for many years to come offering a wonderful service of family, fun, outdoor recreation for our community," she said.
Frank Pettway, a representative of the county parks, said maintaining and growing the parks doesn't come without cost.
"The time has come that we got to ask for your support. Let it be known that the previous donation to each park from the county of $1,500 per park per year is greatly appreciated, and I assure you it's been very judiciously used," he said.
However, Pettway said the parks need more for them to grow, especially as the $1,500 doesn't cover utilities alone.
"We need help to maintain and continue growth of our parks. I and all the park supporters that are here tonight sincerely hope that your ongoing budget discussions will be able to find that help for us," he said.
Clayton Kendrick, chairman and of the Mayo River District, said the board would try to reach a decision within two weeks.
In other matters, the board:
*Heard from Norma Bozenmayer about park funding.
Bozenmayer said it came to her attention that DeHart needs additional funding to meet additional costs.
"DeHart Park is an important part of the community, and the pool is an integral part of summer activities in the park. The pool will not be able to operate without the additional funding," she said.
It's estimated 120-150 people use the pool on a daily basis, with over 2,000 potentially using it on July 4. I personally use the pool several days a week in the summer for water aerobics class, and that has become an important part of my summer activities," she said.
Bozenmayer said swimming is a valuable activity for people of all ages to maintain good physical and mental health. 
"The pool is very important to the county. Please consider this additional funding in the 2023 budget," she said.
*Heard from Kurt Bozenmayer about the board's scheduling a hearing to discuss the county's tax rate.
"I'm concerned about the maneuver last meeting to skip over setting a public hearing because the tax rate would not change under the present agenda that says a tax rate is not to exceed 0.73 cents per $100 of value," he said.
Kurt Bozenmayer said there are differing legal opinions on whether a public hearing is needed to set the tax rate if it does not change. However, county attorney Mark Popovich recommended the public hearing for the purpose of keeping the public informed. No one spoke when the hearing was held on March 29.
"In the end, this is not Patrick County's money, it's our money. We are the taxpayers, we put this money up and we want to see that it's used properly, and we trust the finance department, we trust the supervisors to make the best use of that money when it comes in," he said.
Kurt Bozenmayer said his concern is that the tax rate is being set before the county's 2024 budget is finalized. He said the first page of the budget documents states it is being submitted to the board with a deficit of expenditures over revenues of $477,000.
"At the bottom of that first page, it says the proposed expenditure budget is an increase of $1.7 million, 6.04 percent over the fiscal year 2023. It goes on to list raises for county employees, merit increase for county employees, all well and good," he said.
Kurt Bozenmayer said one page in the budget released on Feb. 13 states the contingency fund has been eliminated. 
"It was set at $666,000 in the fiscal year 2023, and it is set at zero in the fiscal year 2024. I don't understand at this size of a deficit and not increasing the tax rate how this budget is going to be balanced," he said.
An updated budget from Feb. 24 does not mention anything about how these deficits were overcome.
"My concern at this point is that if this is not explained to the public we have to sit back and say 'what the hell is going on here, how are we doing this.' Once again, we are trusting you folks to make the best decision with the money that's going into this budget, but please take a little time and explain to us how these things are beging done," he said.
*Heard from Malcolm Roach about solar.
"I got a copy of the letter that Geri Hazelwood (former county administrator) signed of the county that everybody says is making her responsible for us to have solar farms. Well, the way I read it, I'm sorry she's not. She did her job, she signed a document that she needed to sign," he said.
"Thank you, thank you," Denise Stirewalt, of the Peters Creek District, said.
Roach said it is up to the supervisors to decide whether the county will get solar farms or not.
"What I didn't like about this letter is the county for some reason has blotted out the applicant's name and signature. So, I have no idea who applied for this, and I would really like to know," he said.
Roach said a Virginia state document is about the same solar field in the same place.
"The letter of intent is for 33,500 polyimide solar panels in 17 separate frames. The state said that the letter of intent would expire on Feb. 9, 2022," he said.
Roach said if nothing has been done since the county approved this in 2021, with no other permits, intents, or applications, he believes what Hazelwood signed is null and void.
"And that was not, you said, approval. There was no approval, ever," Stirewalt said.
*Discussed the fiscal year 2024 budget.
*Approved going forward with the health insurance in the budget as presented.
*Approved West Piedmont Planning District Commission's (WPPDC) request for an additional $11,410 in the county budget.
Brandon Simmons, of the Dan River District, did not attend the meeting.
No attorney from Guynn, Waddell, Carroll & Lockaby, P.C., the county's attorney firm, was present at the meeting.