Twenty-four-year-old Booker Dalton and 18-year-old Lilla Shockley were married on Valentine's Day in 1894. Booker was the son of Willis Dalton and Lucy Howell and Lilla was the daughter of William Henry Harrison Shockley and Mary Jane Dalton, all of Patrick County.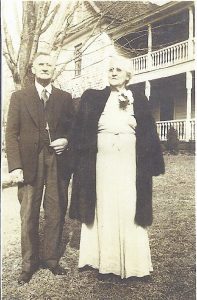 The couple started their lives together in a log cabin, cooking their meals in an open fireplace. By the time their first three children, Lee Swanson, Robert Banner, and John Roy had been born, Booker and Lilla had managed to save $500.00 to purchase 200 acres of land, which (according to the inflation calculator with CPI data) is equal to $17,407.00 today. The young family set up housekeeping in an existing log cabin on the farm, which is located south of Stuart, just off Salem Highway. 
In 1910, Booker was appointed Commissioner of the Revenue to fill an unexpired term and was elected to the office in 1911. Two years later, Booker was elected to the Virginia House of Delegates to represent Patrick County for the 1914-1915 term. He resigned as Commissioner to serve this term in the state legislature. During this same time, the farm was doing well, and the couple's family had grown by six more children, Lucy Mae, Harvey Wallace, Grady William, Booker Hughes, Bruce Atwood, and Margaret Wilson. The Daltons built a two-story frame house on the hill above the log cabin. This home is still in use and is now known as Witt's End Lodge. 
In 1922, the couple had their tenth and last child, Glen Shockley. A year later, Booker was again elected Commissioner of the Revenue and was re-elected for each successive four-year term until his retirement in 1939. He also served two years as the local game warden.
Booker and Lilla's grandson, Sandy Rodgers, (son of Margaret) stated that "in one of the elections, my grandfather was just sitting at home waiting for the results to be tabulated. He learned of the result when cars surrounded his house, all blowing their horns in celebration." Rodgers also shared that "grandfather installed an acetylene gas generator and gas lights to replace the oil lamps in the house, and they also had one of the first radios – battery powered."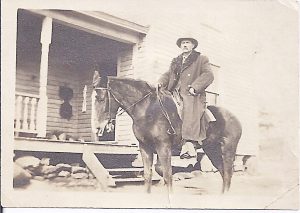 Rodgers said that his grandparents' large farm "was well managed, following good agricultural practices, producing various grains, fruit, vegetables, beef, pork, etc. along orchards that allowed them to help relatives and neighbors during the Great Depression. Grandma Lilla also served as a mid-wife for the neighborhood as well. Rodgers added, "I recall a story about how one woman once related years later about how good they were to her when no others would help, her husband had died, and Booker and Lilla brought her meat, flour, cornmeal, etc. to assist her and her children." 
Rodgers stated that neither of his grandparents learned to drive a car, but that did not stop them from traveling. While Booker was serving as a Commissioner, his young daughter Margaret drove the family to Richmond to see the capital and when the oldest son, Swanson moved to Montana, his brothers drove the couple out west to visit. 
Booker Dalton passed away in 1948 while Rodgers was a small child, but he has fond memories of his grandmother, who did not pass away until 1970. Rodgers stated that his grandfather Booker, "was sort of the local weatherman for the area.  He was called upon by neighbors for advice on the best time for harvesting etc.  I remember that after TV came out, my grandmother, Lilla, once commented on how much he would have enjoyed being able to watch the weather forecasts on TV – along with the news."
Thank you so much to Sandy Rodgers for providing the photographs and information for this story. Woody may be reached at rockcastlecreek1@gmail.com or 276-692-9626.