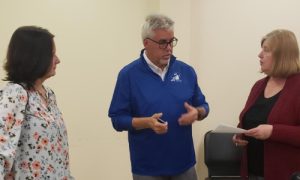 The Patrick County Board of Supervisors authorized Tim Hall, an executive manager with The Berkley Group, to act as interim county administrator.
Hall will replace former county administrator Geri Hazelwood when he begins the new position on April 6. Hazelwood resigned in March. 
Hall, with a background that includes education and journalism, retired as the Henry County Administrator and General Manager of the Henry County Public Service Authority in July.
The county also will work with the group to hire a permanent administrator. 
In other matters, the board:
*Held a public hearing and set the real estate tax rate to not exceed 73 cents per $100 of assessed value for the fiscal year 2023-2024. That is the same rate as the current fiscal year.
*Heard from Piedmont Community Services (PCS) Executive Director Greg Preston about PCS's services and its budget.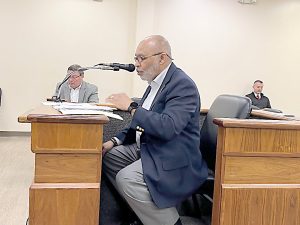 Preston said PCS is one of 40 community services boards that provide publicly funded mental health, substance abuse, developmental disability, and prevention services.
"In 2022, Piedmont served 862 individuals in Patrick County. We actually employ over 68 staff here in Patrick County. That does not include support staff," he said.
Preston said PCS offers over 25 different services in Patrick County. The organization will be expanding its recovery services in the county with the purchase of a mobile unit, which is a large RV.
"What we will do is utilize that vehicle, which will include a prescriber, a nurse, a case manager, and we will go throughout not only Patrick County, but all of our areas trying to meet the needs of individuals that may be hindered by transportation," he said.
For the fiscal year 2023, Preston said PCS estimated the Patrick County program budget is $3,591,249. The budget does not include PCS's emergency services, the Peer Recovery Program, discharge assistance plans, detox, or the community recovery program.
PCS also received the HRSA grant worth $500,000 for Patrick County. Preston said PCS receives up to 90 percent of state funds to provide services with the remaining 10 percent match coming from the local governments it serves.
"What we do in order to come up with the 10 percent match is we look at the U.S. Census. So, for example, Franklin County has a population of 54,938. So, they are responsible for 40.30 percent of that 10 percent match," he said.
With a population of 50,248, Henry County is responsible for 36.87 percent of the match and Martinsville is responsible for 9.92 percent of the match because of its population of 13,517.
"Then you have Patrick County. The estimated population is 17,602 individuals. The percent match for Patrick County is 12.91 percent. From the state funds, the 10 percent match is $791,202. From the calculations, Patrick County's local appropriations right now is $50,000, which calculates to the 10 percent match for Patrick County is $102,144," he said.
This year, Preston said PCS received a local tax appropriation per capita document. 
"One of the items that we want the local governments to understand. In the first sentence: it says a community service board should maintain its local matching funds at least at the same level as that is shown in its FY2021 performance contract.' What is important is the same level," he said.
Preston said PCS has to report to Richmond annually about its local match. If the community services boards do not meet the 10 percent match, PCS has to submit a document saying why.
"We have to say why Patrick County may not be meeting its match. They can accept that, or they can deny it. We are prepared to make that report because last year I think we were cut $25,000," he said.
Preston said if the county doesn't meet the match, PCS could lose funding.
"Part of my concern, being transparent, is I can only come before the board of supervisors and request money, and it's really up to the board of supervisors to oblige or not. And in the same breath, I have to go back and report to the state on if we received our match or not," he said.
Doug Perry, of the Smith River District, said he thinks there's some confusion about services being moved out of Patrick County, and asked when people can expect to see the services in the county.
"We have zero prevention, nothing. We have the recovery, there's a huge gap between active addiction and the recovery services you provide. The person has to already be in recovery. We don't have anything to fill in those gaps, and I know that's a huge part of other communities, so when are we going to start seeing those things physically here inside of Patrick County," Perry said.
Preston said PCS currently provides the Too Good for Drugs program for 6th and 8th graders, mental health training for staff, mental health first aid, Safetalk, and ACEs (Adverse Childhood Experiences) training.
Perry asked when training would be held and when PCS would get back into classrooms. He added that he had conversations with a PCS employee eight months to a year ago, "and we've had empty promises that you're going to bring a prevention specialist and work on these things and nothing," he said.
Preston said it's also the responsibility of the locality to meet its 10 percent match to assist with expanding services and meet employee salaries.
"By being cut $25,000 last year, and then for your request to expand services, it definitely puts Piedmont in a tight bind, especially when we have other localities that meet their match and are requesting the same services, if not more," Preston said.
*Heard from Danny Foley about the county's budget. Foley said the real estate revenue appropriation for 2023 was $12,153,244 with the 2024 appropriation being $12,196,010 for an increase of $42,766. 
"When you look at the proposed revenue budget versus the property taxes, the 2023 appropriation was $3,655,659. The 2024 proposed appropriation was $4,235,659. That's an increase of $580,000," he said and asked about the origin of the $580,000.
Finance Officer Lori Jones said the budget was passed last year before the county had the final numbers on the vehicle values from the commissioner.
As a result, those funds were not "appropriated, and the budget has never been amended to include it. That's why it's looking so much. It should be about the same it was in 2023," she said.
*Approved giving $15,000 to the DeHart Pool as a one-time donation from the fiscal year 2023 budget.
*Designated Donna Sough, assistant county administrator and human resources director, as a signer for DCJS grants.
*Heard from Treasurer Sandra Stone about her department's budget restructuring.
*Approved changing the county's self-funded employee insurance with the school system to its own Anthem plan and that the insurance committee is allowed to negotiate with the Patrick County School Board to pay a share of the deficit it currently has with Jefferson Health. 
Brandon Simmons, of the Dan River District, attended the meeting remotely because he was out of town for job training.