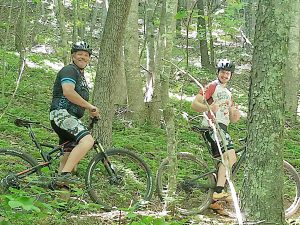 A public Trail Celebration Event will be held to commemorate the opening of the newly enhanced trail system at the I.C. DeHart Park at 631 Charity Highway in Woolwine, according to the Patrick County Tourism office.  
The celebration begins at 3 p.m. on April 28 for the trail that was built by "volunteers from two cities and three counties," officials said. The event will include snacks and refreshments provided by Pickle & Ash, prize giveaways, guided hikes on the trails, and a ribbon-cutting to officially open the newly enhanced trail system to the public. 
"We are very grateful to the Eco Ambassador Council (EAC) for their generous investment in enhancing the Woolwine Trail System," said James Houchins, the county's director of Tourism. "I hope to keep the spotlight shining on this amazing treasure in Patrick County long after this event."
The EAC donated funding to enhance the I.C. DeHart Trail System. Current EAC members include Blair Construction, Carter Bank & Trust, Clark Gas & Oil, Frith Construction, Hooker Furnishings, Jones & DeShon Orthodontics, The Lester Group, and Pickle & Ash. Each business has pledged an annual investment to preserve and promote environmental projects in the region. The EAC started in 2020 and is open to all businesses in the Dan River Basin that want to make a visible impact in the region. 
"The EAC believes that local companies can be a force for positive change and that their influence doesn't begin and end with a check," said EAC member, Anna Lester. "Over recent years, it has become very clear that people in our region want and need opportunities for outdoor recreation. The EAC was proud to partner with the Patrick County Tourism Department to enhance the I.C DeHart Trail System – which we view to be a great regional asset and will have an even larger positive economic impact locally."
The I.C DeHart Trail System was established in 2009 with 8 miles of trail under the direction of Eric O'Connell, avid trail rider. He and other volunteers have invested countless hours building and expanding mountain biking trails on the property. O'Connell has organized and hosted the Virginia State Mountain Bike Championship Bootleggers Blitz in past years at the park. The beautiful trail system is still, however, not well-known outside of the county.  
"Mountain bikers are trail builders who create miles for themselves, but are shared with hikers too," said Jim Frith of Frith Construction, an avid biker and member of the EAC. "Patrick County's own Eric O'Connell, and an amazing small group of volunteers and trustees built the trail here with hundreds of athletes visiting Patrick County from all over the southeastern USA." 
"The new trail maps and signage will help trail enthusiasts enjoy the trails even more, and the changing station is a great addition for mountain bikers." said Sandra Belcher, chairman of the I.C. DeHart Trail Association.
Tourism officials worked closely with the Dan River Basin Association (DRBA) which managed the improvements to the trail that include new signage, trail map, changing station and other park amenities. 
"Mike Ryba, a Virginia Tech geospatial technician and avid mountain biker, volunteered to create the trail map, collaborating with DRBA and trail users. Local and regional volunteers provided labor, expertise, handmade sign installation tools and extra supplies." said Katy Miller, trail maintenance volunteer.
"Simply put, these trails are the gold standard for other venues to compare with, and imitate our design," Frith said. "This project was built by a dozen volunteers from two cities and three counties and nurtured by Brian Williams." 
Williams, Virginia Program Manager for DRBA, managed the project and worked closely with a stakeholder group of volunteers with expertise in design of International Mountain Bicycling Association (IMBA)-style trail building, GIS mapping and local bikers who had accomplished much of the previous trail construction.  
"DRBA has been a leader in multi-use trail building in our region for 20 years," said Williams. "More than 1.5 million Virginians and North Carolinians live within 50 miles of the I.C. DeHart Trail System, and the hope is that the current enhancements kick-start a new chapter for this hidden gem." 
To learn more about the Trail Celebration Event, go to visitpatrickcounty.org.